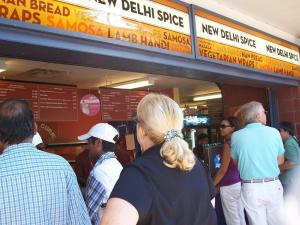 Sports Illustrated tennis guru Jon Wertheim wrote in his 2008 list of tips for Open fans, "The food court fare — once the subject of so much derision — no longer seems so overpriced. And it's quite good. (Thankfully, the Indian joint is back in 2008!)"
Indian food? At a sports venue? That seems to be asking for trouble. But Wertheim is a brilliant man, so I risked my bowels and made my way to New Delhi Spice in the Food Village.
Apparently the Indian stand isn't a favorite just for Wertheim. Karen Jacob had eaten here in previous years, and, asked if she had liked it, said, "I'm back, aren't I?" Touché.
An older man, Walt Mardis, said he was getting the chicken tikka masala, and I followed his example. And it wasn't half bad! Nicely spiced, though at $10.50 for a few pieces of chicken, I have to disagree with Jon that it's fairly priced.
Lisa Brents, 41, was waiting for her chicken tikka wrap. I asked if she was nervous ordering Indian food at the U.S. Open, and she said, "Not until you mentioned it." Then, raising a potentially good point, she said that Indian made her "less nervous than getting seafood," as she gestured ominously to the Fulton Seafood stand a few feet away.