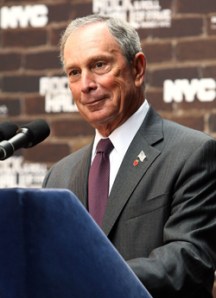 Yesterday, with a report in the New York Post, the idea that Michael Bloomberg will try to seek a third term as mayor returned with force.
Much like the rumors that he would run for president, or was being considered as a running mate for either of the two presidential candidates, the whisper hasn't died despite pro forma denials by aides and vocal support for term limits by Bloomberg.
Is any of it real?
A spokesman for City Councilman Domenic Recchia, who strongly supports changing term limits and has been rumored to have encouraged the mayor to run again, said that there has been no indication of legislative action and denied that Recchia was encouraging the mayor. But he did say that it would be a nice thing if it happened.
"We've been hearing this rumor a lot and we would love to know where its coming from," the spokesman, Rob Hart, said in an e-mail. "There have been no strategy meetings, there are no bills being drafted. The councilman feels that extending term limits for the mayor would be a great idea–Bloomberg has been doing a great job."
At a press conference in Harlem yesterday, a reporter asked Bloomberg about the report he plans to change the law so he, and other city lawmakers affected, can have one more term of four years. The mayor didn't exactly shoot the idea down.
"I've always had a policy of never saying what I'm going to do," he said. "It's like saying, 'No new taxes.'" He added, "You have to be open to everything."
Bloomberg did also say he had no current plans to try to change the law.
That was in sharp contrast with what the mayor said at a City Hall press conference back in June, when he was steadfastly in favor of a two-term limit.
"Term limits have the advantage of forcing change," he said at the time. "I am a big believer in change. I think you, after a period of time you get stale, you learn what can't be done." He went on to say, "The public has picked eight years, for example, in New York City, eight years for the presidency of the United States. And we've had presidents that people wish could have stayed on and presidents people were happy to see go."
And in April, the Daily News quoted Bloomberg spokesman Stu Loeser saying, "The mayor is absolutely not seeking a third term," and reported that he also said Bloomberg would promise to leave in 2009, when asked.
Term limits for council members and citywide offices became law after voters twice approved the measure in referendums in the 1990s. In 2003, then City Council Speaker Gifford Miller tweaked the law to define "term" as four years in office, instead of allowing the occasional two-year term, which occur immediately after redistricting, meaning some lawmakers had only six years, not eight. The change was upheld in local courts, and, some observers say, set a precedent for sitting lawmakers to rethink term limits before they were kicked out by them.
Some legislators have openly talked about putting a referendum to extend the maximum number of terms to three, each of them four years.
The deadline by which referendums need to be finalized and presented to the public is 60 days before an election–sometime around Labor Day. And although Bloomberg announced plans to convene a charter commission, which is required for a referendum, he hasn't selected members yet. It seems unlikely that he could do so before the deadline.
The only other way he could do it, legislatively, requires City Council approval but not a referendum, and the mayor's office has previously said he believes that voters should approve or reject term-limit laws.