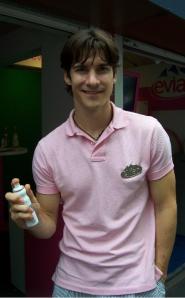 The spray bottle may be smaller this year, the hair floppier, but Evian's boys of summer remain a U.S. Open constant.
Adam Shorsten's job is to zap passersby with cooling Evian facial spray — "from the French alps," a nearby Evian flack interjected. Shorsten had a little less to do today than usual, since it's cloudy and relatively cool, but he didn't seem too put off, saying it's been "an easy gig" and "a lot of fun."
Shorsten, 25, was chosen through a model casting, along with his "assistants" working alongside him at the booth (the hierarchy is unclear). Out of 350 models at the casting, the Evian spokesman said that "about 10%" got the job. Shorsten brightened at this news, saying, "I feel pretty lucky."
He's not that big of a tennis fan, but added, "Today we're having James Blake come over" to the booth. No word on whether he would get to spray down Mr. Blake.