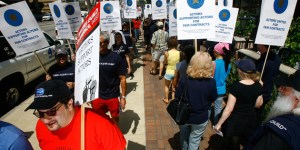 No, the Screen Actors Guild and the studios still haven't come to an agreement on a new contract, which expired June 30. Now the New York chapter of S.A.G. is getting mighty feisty with their Los Angeles leaders about finding a solution, or else. Yesterday, they sent out a biting statement, stating that S.A.G. leaders are "failing to bargain realistically" with the studios. They're demanding that they seek help from a federal mediator if contract talks don't progress by Aug. 25.
"Nothing is happening, and we're no closer to a deal today than we were six weeks ago," the New York members said in a statement, contradicting assertions by SAG Executive Director Doug Allen and President Alan Rosenberg that contract discussions with the studios were ongoing.
"They intend to simply sit still until the upcoming [board] elections are concluded rather than make the 'unpopular' moves necessary to make a deal," the statement said. "The willful inaction of our negotiators is costing our members money, every day."
For his part, president Rosenberg dismissed the statement as a political ploy that would "embolden management with a false belief that SAG actors are split on the issues."