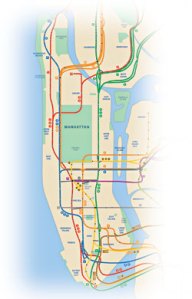 The 7 and L trains may be the best in town, according to the latest State of the Subways report by the Straphangers Campaign, but that's only if you measure the quality of a ride by such factors as train frequency, crowding, and cleanliness. The Observer's summer interns decided it was time for a more nuanced assessment of the differences between the nearly two dozen lines that snake throughout the city. To be precise: When the train doors close, what books do people open?
Come on, admit it: You know you are silently judging all those Eat, Pray, Love women. And there's the guy across the aisle, his brow appropriately furrowed as he reaches the meaty heart of Zakaria—the one you told yourself you'd pick up in June. Damn.
Instead of beating yourself over the head, why not peruse The Observer's 2008 State of Subway Reading? In less time than it takes to forget to grab your copy of Moby-Dick as you're running out the door, you can find out what books your neighbors are plowing through for half an hour every morning. Think of it as New York City's underground library, only with lots of people pressed up against you.
(Yes, we know Manhattan isn't the only borough, you get so much more space for your money in Brooklyn, etc. )
Riders on the A/C/E are leading a mysterious double life. On the one hand, they appear to be comfortably worldly and intellectual, reading Arthur Miller: Collected Plays 1944-1961, Mortimer J. Adler and Charles Van Doren's How to Read a Book and perusing Theoretical Atomic Physics by Harald S. Friedrich while they stand clear of the closing doors. But then it just gets weird. There's otherworldly lit like Star Wars: Labyrinth of Evil, by James Luceno, and Hyperion, by Dan Simmons (also, more than one vicarious vampire hid under the flickering subway lights, flipping through Stephenie Meyer's Twilight series). We know it's none of our business, but it was a relief to see a New York Times here, a People there, even a Maxim—for the articles, of course.
F
The reading materials of F passengers reflect a taste for harsh realities—perhaps a byproduct of hours spent suffering through the train's well-documented unreliability. Selections included Oliver Sacks' famous collection of neurological disasters; Melissa Plaut's memoir of a cab-driving stint in the wake of an unexpected corporate layoff; and Kris Holloway's account of the two years she spent in West Africa assisting an overworked, inadequately-supplied midwife in an impoverished village. Along for the ride into Brooklyn was Richard Price's lurid depiction of a violent clash between newly arrived hipsters and the longtime residents of a gentrifying neighborhood. That doesn't sound familiar at all.
N Q R W
Patrons of the N/Q/R/W are a gossipy bunch! On a single summer afternoon, at least three riders were reading books written by celebrities (and, presumably, some helpful ghosts)—Brooke Shields' memoir of her bout with postpartum depression; the Super Bowl recollections of Plaxico Burress; and the just-released tell-all by Madonna's brother, Christopher Ciccone. Mysteries were even more popular, particularly among the female population. We found the ladies of the yellow line occupied with selections by Chelsea Cain and Sue Grafton, and highbrow thriller To Kill a Mockingbird, among others. Military history The Soldier's Tale, A Thousand Splendid Suns by the ubiquitous Khaled Hosseini, and chick-litty The Little Lady Agency exited at the Eighth Street-N.Y.U. stop; Tom Robbins' Fierce Invalids Home From Hot Climates and Evelyn Waugh's Brideshead Revisited continued on into the literary idyll of Park Slope.