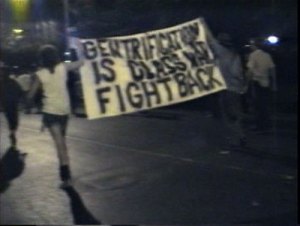 On Tuesday, in the waning daylight, a small line formed outside Webster Hall in the East Village. The crowd, as likely to sport zebra-striped jeans and Mohawks as flannel shirts and grizzled beards, had come for a special screening of Captured–a film that examines the life and work of Canadian street photographer and artist Clayton Patterson as he followed the Lower East Side's transition from junkie-town to condo-city–to mark the twentieth anniversary of the Tompkins Square Park Police Riot.
Inside, Machine and Alden Pact, members of rap group Team Facelift, bought drinks at the bar with Captured's art director Paul Lawrence and fellow former Mass Appeal mag writer PrettyLew. The scent of marijuana wafted across the theatre, as two hundred fifty people searched for a seat among the folded plastic chairs.
"In my day I seen some acrobatic junkies," read John Joseph from Evolution of the Cro-Magnon Man, a book he wrote about his days as a homeless kid in the LES. He rambled on about imagined marketing meetings where executives brainstormed different dope names and reminisced about a dealer named "Cool Man" who sold drugs from an ice cream truck parked near Tompkins Square Park.
After a time, Mr. Patterson himself, sporting his signature skull-embroidered baseball cap, came to pull the overly-enthusiastic author off the stage.
Mr. Patterson moved to New York with his partner, Elsa Rensaa, in 1979. He found the then-bourgeoning Soho art scene too fratty, so the couple bought a place on Essex St, between Houston and Stanton. Captured includes photos and video footage he shot during those pre-gentrification days on the Lower East Side.
"I found the Lower East Side inspiring," Mr. Patterson said in the film. "It was like Disneyland." Armed with a camera and his self-designed hats, he documented the artists and anarchists, skinheads and students, prostitutes and politicians, drug dealers and drag queens on the streets, out at night, and in Tompkins Square Park.
It's amazing to think that twenty years ago this week, neighborhood residents and activists joined the homeless, runaways, and squatters who slept in the park to protest against the proposed 1 am curfew for the previously 24-hour park. (Today, the park shuts at midnight.) As night fell, cops started beating the protestors, bystanders, and roaming journalists. Mr. Patterson was sentenced 90 days for contempt, but thanks to his video of the violent police retaliation, justice was later served.
"The reality is the film is about me but it's also about young filmmakers who are getting started," Mr. Patterson said on the phone this week to the Observer. "I would equivocate it to Mean Streets. It's been said that's the best film made by a student, but it's no Goodfellas. It took them a few years to get their legs. Now you've got Scorsese and DeNiro all running the film scene in New York with Rolling Stone — bunch of geriatrics — and they're forgetting the next generation of film makers."
"It's sort of like me passing the torch with this film so they can become who they are," said Mr. Patterson. "A big part of the movie is about whatever it was will never be again. Money has overcome poverty on the Lower East Side, but artistic creativity is connected to low rent and that period of cheap rent is over. We've killed the muse."
Captured was rejected by the Tribeca Film Festival, yet a screening at the Rooftop Festival in June drew over 1700 guests, including downtown trendsetter Chloë Seveigny.
"The young people made it," said Mr. Patterson of the film. "These young guys (filmmakers Jenner Furst, Dan Levin, and Ben Solomon, with art director Paul Lawrence) were enthused about the history of their New York, and that's no longer here. Now we end up with this nice, beautiful city, but like Rome or Athens, they were never a leading cultural center again. New York now is a museum, a relic. It's over. I'm not saying you can't be corporate, be picked up here like Brittney Spears, but the whole avant-garde, Alan Ginsberg-world can't ever exist here again."