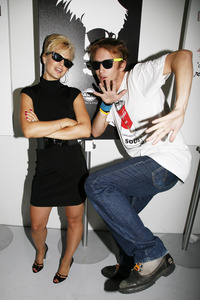 On Wednesday evening, the Daily Transom found itself at a curious little gathering in the Sky Lounge at the New Museum to celebrate what would have been Andy Warhol's 80th birthday.
There was 75-year-old actress Sylvia Miles, who was Mr. Warhol's muse and was nominated for an Oscar for her role as the wealthy seductress in Midnight Cowboy. And there was 59-year-old Geraldine Smith, another one of Mr. Warhol's It Girls whom he discovered at the age of 16, reclining on the banquette near Ms. Miles. And 29-year-old Mena Suvari, posing for photos in a skin-binding black minidress, her bleached blond hair severely styled into a look not unlike Mr. Warhol's.
We wondered who might have decided to throw this posthumous birthday bash. A dear friend? Former collaborators? Perhaps the museum itself, looking for an excuse to honor the artist's work?
Actually, it was Martini & Rossi, a brand of vermouth.
Ms. Miles, whom the Village Voice columnist Michael Musto once said "would attend the opening of an envelope" if she could, was dressed for a full-on celebration. She was wearing petal pink ankle socks, a cardigan with little red roses tacked onto it, and her signature sunglasses resting halfway down her nose.
"These are Betsey Johnson!" exclaimed Ms. Mile, pointing at her socks. "Thank God I bought a lot of them because she never made them again after that one year. I bought at least seven pairs.
"I'm trying to set up a shot with Geraldine, myself, and Mena, so that it's like the three generations of Warhol girls," Ms. Miles told the Daily Transom.
We wondered what Ms. Miles thought Mr. Warhol would think of all these people celebrating vermouth in conjunction with his 80th birthday. "Well, I don't know. I haven't had the celebration yet!" she said.
Ms. Suvari, who played Richie Berlin in Factory Girl, did that thing where she laughed and then repeated the question before answering it.
"It would be really nice to have him here," she finally said. "I think he would be the same but also different."
But Liam McMullan–whom Daily Transom found roaming around the room, admiring photos of Mr. Warhol's Factory crew that his father Patrick may or may not have taken (he wasn't sure)–was a little more jaded about the whole thing.
"I don't think Andy would have thrown this party, but that's not to say it's not a nice party," he said. "I think he would probably want his cut of it and he might be very happy to get a couple of those bottles and make some kind of art out of it.
"I don't think he would have made the art that they set up all over here to make it look like his," he continued. "It's probably better than having an image of Audrey Hepburn in a Gap commercial, but they're still raping his art."
We wondered what Mr. McMullan thought Mr. Warhol might be like at 80. "Probably more maniacal because people seem to get more maniacal the older they get. I don't know, but he probably wouldn't be here if he was 80."