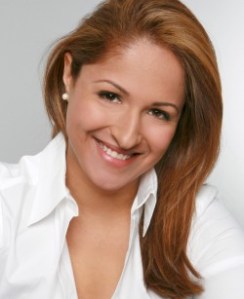 "It's a story about a teacher, but it's also a story about how certain children on a certain island are getting through schools seemingly magically, but maybe not so," said the tutor-cum-novelist Anisha Lakhani the other day. Her first book, Schooled, out this week, was inspired by her experiences teaching and tutoring wealthy Manhattan schoolchildren. "I never went into teaching thinking that I was going to write a book about this. But slowly I started into the world of tutoring and I found it funny in a grotesque kind of way."
After graduating from Columbia University in 1998, Ms. Lakhani, who is 32, took a job teaching 7th grade English at Dalton. She quickly became dissatisfied with her measly teacher's salary and began taking on after-school tutoring gigs–jobs that can pay upwards of $350 an hour–with what she called "high-profile Manhattan families." And thus Ms. Lakhani began to enjoy a lifestyle of Chanel handbags and splurges on designer make-up at Henri Bendel. (A brown-and-white shopping bag very similar to Bendel's adorns the cover of Ms. Lakhani's book.) She eventually left Dalton, where she had become chair of the middle school English department, after eight years.
In her novel, Ms. Lakhani's protagonist is named Anna Taggert, and the Manhattan prep school where Anna teaches is called Langdon Hall. Her novel is the latest to attempt to expose the fetishized world of elite New York private schools; the genre has become defined by Cecily von Ziegesar's Gossip Girl series. Then there's Academy X, the thinly disguised novel by Andrew Trees, a former Horace Mann instructor whose contract was not renewed after his book came out; and a book called The Upper Class, written by Hotchkiss School graduates, among others.
But Ms. Lakhani doesn't mind being percieved in the same category.
"Sure, they were fun books and if I were to talk to Andrew Trees I'd say, 'great book, but anything boys can do, girls can do better!'" said Ms. Lakhani cheerfully. She has a bronzed complexion and hot red manicured fingernails, and wore a loose-fitting cotton tank top, jeans and sandals. "But on a serious note, he wrote a book about a teacher while he was still at Horace Mann. I am no longer a teacher at Dalton, so no one can fire me." Dalton has declined to comment on Ms. Lakhani's novel; she also claims that she has not received negative phone calls or emails from the school or her former clients.
Ms. Lakhani insists that her book points a finger at the teachers, tutors and the private school system for going along with the concept of professional homework doers, not necessarily the students and parents who fund it all. But that doesn't mean that uptown privilege didn't make an impression on her.
"As a tutor, you're going in and out of apartments that look like the Met and one day I'm sure will be turned into museums," she said. "But as a teacher you're coming home to your fifth floor walk-up on First or Second Avenue. And sure, there are some girls who have walk-in closets that when you walk in, it's like the angels sing and the chandeliers sparkle. Have you seen Sex and the City? That closet! Twelve-year-olds!" Needless to say, Ms. Lakhani is not to the manner born. Her family moved from India to New Jersey when she was young; she grew up in Saddle River and Ridgewood, N.J., and attended a public high school.
Her outsider observations of Manhattan wealth probably clash with how most New Yorkers were first introduced to her, which was through New York's benefit and party circuit a year before she was outed as the author of that Dalton book. These days, Ms. Lakhani lives in an Upper East Side apartment with her husband, who's in finance, and made a name for herself at Bvlgari dinners and Emanuel Ungaro luncheons, posing for photos with socialites Tinsley Mortimer, Dabney Mercer, and Annie Churchill.
Does that make Ms. Lakhani a bit of a hypocrite?
"I'm not going to do that vapid thing, like I'm not a socialite, but I'd just say read my next book," she responded. "I knew nothing about that world when I was teaching, but after I finished the book, I had some time on my hands and some research I wanted to do so I started going out. I won't lie, there is another story bursting to come out of me. Does that explain it? Wink, wink?"
Ms. Lakhani said that she's currently working very seriously on what might be her next book, the nature of which she declined to comment on, only saying that there are some "characters" she's met while going out that belong in a novel. But first, Ms. Lakhani must deal with how Manhattanites receive her first novel.
"It will ruffle some feathers no doubt, but I think people will get what I'm saying," she said. "You can't help if someone calls you a hypocrite. I was doing this whole thing like 'I'm going to kill myself if they're mean to me'–I am a Cancer, so I'm prone to having these 'everyone hates me' cry fests–but then I was watching Katie Couric on The View yesterday and she quoted Kim Catrall from Sex and the City and she said, 'If I stayed home because of what every bitch in New York thought about me, I'd never leave the house.'"