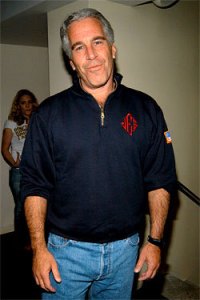 Jeffrey Epstein, the money manager who will soon start serving 16 months in jail for soliciting underage prostitutes, first came to the media's attention in 2002 when he used his mysteriously acquired wealth to fly some newfound friends like former President Bill Clinton, and actors Kevin Spacey and Chris Tucker, to Africa on his private jet.
But just where was Mr. Epstein's money coming from?
Until today, the only billionaire who has ever been publicly linked to Mr. Epstein is the founder of Limited Brands, Leslie Wexner. But now Cityfile has unearthed yet another billionaire connection. And it happens to be Leon Black, the co-founder of Apollo Management. Cityfile found Mr. Epstein listed as a director on the IRS forms of Mr. Black's non-profit, the Leon D. Black Foundation.
According to Cityfile, the details of Mr. Epstein's past have never been particularly clear. What we know: He was a math teacher at Dalton and a trader at Bear Stearns before venturing out on his own. What we don't know: just which high-profile clients were funding the private jet, large homes, and underage massages that invited the media's attention.
Mr. Black's publicist declined to comment on Cityfile's discovery.