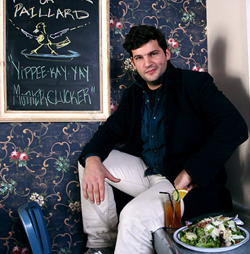 On Tuesday evening, Anthony Martignetti, the 28-year-old owner of Bar Martignetti, threw himself an engagement party at Manhattan Sailing Club's floating clubhouse, the Honorable William Wall, in anticipation to his September wedding to Annette Amundsen.
According to Guest of Guest's Rachelle Hruska, who calls Ms. Amundsen one of her best friends, the party guests were busy chatting about Mr. Martignetti's "bachelor party to end all bachelor parties" in Montauk last weekend when his "havoc-causing Aussie" friends tried to remind him what he was giving up. (Somebody send us some details!)
Mr. Martignetti opened Bar Martignetti on Broome Street in SoHo with his younger brother, Tom. In May 2007, the New York Times Styles section deemed the Martignettis' bar the unlikely downtown epicenter of the pink shirt-wearing, prep school alumni scene. So it is only appropriate that the elder Mr. Martignetti's engagement party was held at a sailing club, where dozens of men in polo shirts and khaki shorts would not seem out of place in the least.
And Ms. Amundsen fits right in. According to Ms. Hruska, Ms. Amundsen has been sailing her entire life and has competed on the world-class Norwegian team. Congrats to the preppy happy couple!
Check out more engagement photos on Guest of a Guest.