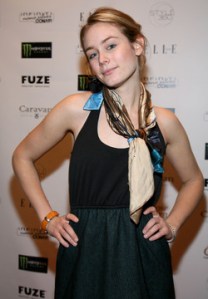 On September 4, former Ford model Abigail Lorick will debut her Spring '09 collection. Ms. Lorick's line, Lorick New York, is the real-life fashion line behind Eleanor Waldorf's fictitious fashion house on Gossip Girl. According to Steven Rojas, a spokesperson for Archetype Showroom (which will be producing Lorick's New York Fashion Week show), Blake Lively, Taylor Momsen, and Leighton Meester have been invited. But it won't be the first time that they'll be seeing Ms. Lorick's latest collection.
Reportedly, a scene for the show was filmed a few weeks ago using Ms. Lorick's Spring '09 designs in Mrs. Waldorf's fictitious Fashion Week show, an episode that will coincidentally air during New York Fashion Week–one week after Lorick's real life runway show. (Got that?) In Gossip Girl's Fashion Week scene, designer Michael Kors and socialite Tinsley Mortimer will be seated in the front row, said Mr. Rojas.
A British brand called Unconditional will be showing in New York for the first time on September 6, a presentation that Gossip Girl stars have also been invited to. (Mr. Rojas is handling Unconditional's Fashion Week presentation.)
While the rep for Unconditional could not confirm whether the line will be featured on the show, she did say that GG star Ed Westwick has taken a liking to the line.
"Ed Westwick is a big fan of the line, he buys quite a bit of it and his agent has called requesting clothing for press appearances for the show," said a rep for Unconditional on the phone from London. "I know for sure that they've been interested in working with us."