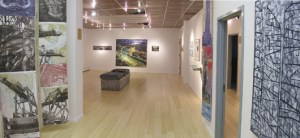 The industrial section of Brooklyn neighborhood Sunset Park, between 3rd Avenue and Upper New York Bay, is now home to a thriving gallery, a weekly film series, and a growing number of artist studios.
"Three years ago, the words 'Sunset Park' weren't even on anyone's radar," says Jospeh Anastasi, who opened the Tabla Rasa Gallery on 48th Street in 2005 with his wife Audrey. "It was like 'Field of Dreams'—if you build it they will come."
The Anastasis say their gallery is becoming a "destination" on the city's art circuit, and they're seeing more artists nowadays in the neighborhood.
"I see people walking down the streets all the time with Pearl Paint bags," says Audrey Anastasis, who has a studio in the rear of the gallery.
Relatively cheap space is what drew painter Griselda Healy to the studio she rents on 36th Street about a year and a half ago.
"The rents are certainly much more attractive than they are in Red Hook, Dumbo or Long Island City," says Healy, who pays $1,000 a month for her work space. "An artists community is evolving here because artists enjoy being in quiet places, and there are no distractions here."
Healy rents her studio from the New York Art Residency and Studio Program, an organization that has divided three floors in industrial buildings on 35th and 36th streets into more than 60 studios.
Ofer Cohen, a commercial broker in the area, says that since there are still many businesses in Sunset Park's industrial section, the neighborhood is unlikely to transform the way Dumbo and Williamsburg did.
"The area is considered to be one of the last enclaves of working small industrial businesses and is very likely to stay industrial for the foreseeable future," says Cohen, the managing director of TerraCRG. "Unlike neighborhoods like Dumbo and Williamsburg, where residents and artists moved into vacant dilapidated loft buildings, most buildings in the area are small one or two story garage/warehouse buildings and the vacancy rate is very low."
But the artist studios that have been built are very much in demand, according to Lise Soskolne, who works for Industry City Associates, a landlord that is transforming three floors in industrial buildings into space for creative professionals.
Soskolne, herself an artist, says there's been a great deal of interest for the 40 "rent-stabilized" studios Industry City Associates has already constructed. A weekly film series called "Light Industry" began in one of those studios this spring, and it's featured the work of artists who have been included in shows like the Whitney Biennial.
"We want to ensure that artists have a long-term space in a place that's undergoing gentrification," Soskolne says of the low-rent spaces.
At least one artist who already has space in the neighborhood is wary of how it could change.
"I hope they don't turn these buildings into condos too quickly," Healy says.