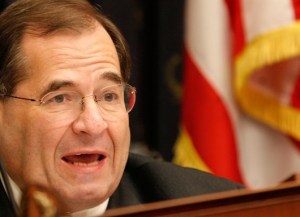 DENVER—Jerry Nadler has been critical of the Bloomberg administration (and other administrations) for its lack of attention paid to managing freight transportation, and last year at a luncheon publicly asked Mayor Bloomberg curtly why his PlaNYC intitative didn't devote discussion to the issue.
But today, one of the few Bloomberg administration officials in Denver, Department of Transportation commissioner Janette Sadik-Khan, gave praise to Nadler at an infrastructure forum here, saying cities need to pay more attention to freight planning, as truck deliveries are "choking our cities and economic growth."
"One of the things, that's also not been mentioned is freight planning," she said. "One of the things that we're really concerned about is, in New York City alone–and our congressman's been working very hard, Jerry Nadler–is 98 percent of our goods are coming in by truck. It's choking our cities and economic growth."
Mr. Nadler has been pushing the issue for years, most notably by advocating for a multi-billion dollar freight-rail tunnel from New Jersey to Brooklyn (the Port Authority is now studying the project).
Ms. Sadik-Khan said she was asked to speak at the roundtable forum, an event hosted by the Rocky Mountain Institute, moderated by Dick Gephardt. A Bloomberg spokesman said the administration did not specifically send anyone in the administration to the convention, though others, including Department of Homeless Services Commissioner Robert Hess, have made their way out themselves.