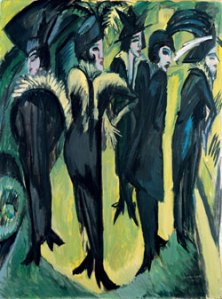 Ernst Ludwig Kirchner (1880-1938), the subject of the MoMA exhibition "Kirchner and the Berlin Street," is, in the greater scheme of 20th-century art, a minor painter, albeit one with a significant role in the shaping of German Modernism.
Kirchner was a founding member of "Die Brücke" ("the Bridge"), a collective of painters out to upset the establishment with art that was "strange to the normal person"—that is to say, Expressionism.
Kirchner had little formal training. He studied architecture as a sop to his parents, but abandoned it for art and the bohemian life. Along with other members of Die Brücke, including Erich Heckel, Karl Schmidt-Rottluff and Max Pechstein, Kirchner advocated for an unpremeditated, rebellious and harsh aesthetic. Die Brücke's mission was to "obtain a freedom of movement and of life for ourselves." Authenticity was the group's watchword; extreme subjectivity was its upshot.
After forming in Dresden in 1905, the members of Die Brücke left for Berlin three years later, wanting to achieve a measure of renown. Circumstances proved otherwise. Encouragement from the influential journal Der Sturm waned when publisher Herwarth Walden began favoring Der Blaue Reiter, a Munich-based group devoted to abstraction. A couple of exhibitions gained notice, but not as much as Die Brücke artists had hoped. A school established by Kirchner and Pechstein closed after one year. The group fell apart in 1913.
Die Brücke's dissolution was the best thing that could have happened to Kirchner. In a funk and isolated, he experienced "agonizing restlessness," seeking escape and, ultimately, inspiration, in the Berlin streets. Public spaces had already served Kirchner well: Street, Dresden (1908/19), long a staple of MoMA's permanent collection, is an electric flow of pedestrians reminiscent of Munch's haunted cityscapes. Dominated by a livid field of purplish-pink, Kirchner's metropolis is populated by a phalanx of well-heeled women and, memorably, a loping, gibbonlike girl.
The seven Berlin Street canvases on display are nowhere near as overheated or garish. Notwithstanding jabbing brush strokes, staccato rhythms and compositions threatening to collapse in on themselves, a cooler Kirchner prevails. His figures, predominantly women, are archetypes—their faces are tribal masks, their stances stiff and hieratic. An underlying geometry, though skewed and, in Potsdamer Platz (1914), upended, provides more structure than is first apparent.
FOR KIRCHNER, the street was an abstraction—a compacted blur of bustling anonymity. Men and women throng so tightly that the thoroughfares they traverse are lost altogether. There are hints of architecture and, in Women on the Street (1915), the abrasive glow of streetlights. Carriages can be glimpsed, but they veer off the canvas; the pinkish conveyance in Street Scene (Friedrichstraße in Berlin) (1914) can't get out of the picture fast enough. The streets are, for the most part, runways for Kirchner's elegant Damen.
Whores, actually. Kirchner's prostitutes strut and pose with chilly hauteur; you won't find the fiercely abhorrent fleshpots of George Grosz or Otto Dix here. Glamorous and aloof, they're the prewar equivalent of supermodels—the contrapuntal Five Women on the Street (1913) is a W layout waiting to happen. Clearly, the artist was fascinated by fashion. Within his choppy and abbreviated style, Kirchner details plumed hats, extravagant scarves and sleek, black jackets and skirts. High couture defines his zombies-for-hire.
WOULD WE RECOGNIZE Kirchner's women as prostitutes without explanatory texts? In Potsdamer Platz, a woman wears a "widow's veil"—a ruse used by older prostitutes to obscure their age. The woman anchoring Street Scene (Friedrichstraße in Berlin), with her sickly pallor and spindly body, glares at us with a take-it-or-leave-it attitude—she's on display. Such display or, rather, frontality is an integral component both of Cubism's pictorial fracturing and of African devotional sculpture—each one a vital resource for Kirchner's vision. Intimations of crass sex are all but absent from paintings that are, in their jagged and acidic manner, valentines to the city.
Sex and primitivism are more obvious in the drawings, prints and, less so, the sketchbooks. The demimonde attracted Kirchner, as did the suggestive and syncopated choreography of nightclub dancers. The lithograph White Dancer in a Small Nightclub (1914), with its high-kicking dancer and cadre of cruel businessmen, is explicit enough. But many of the works on paper are innocent and, at times, rather lovely—the lyrical and almost Matissean Nude Washing Herself (1909), especially. The angular variations on Gaugin-like exotica are Edenic, not callous or mean. Kirchner can be an appealingly soft artist.
As with most Expressionists, Kirchner is limited by a narrow range of emotion. But the artist nonetheless emerges from "Kirchner and the Berlin Street" as more substantial than he has any right to be. Credit the exhibition's organizer, Deborah Wye—she's brought exemplary focus and scholarly insight to a remarkably thorough exhibition. From the scrabbled sketchbooks to more evolved studies on paper, we watch the street scenes develop from the ground up. It's a gratifying trajectory, not least because of Ms. Wye's diligence. Forget Kirchner—this is her exhibition.
"Kirchner and the Berlin Street" is at the Museum of Modern Art, 11 West 53rd Street, until Nov. 10.
mnaves@observer.com.