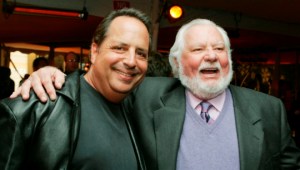 Bernie Brillstein, the top Hollywood manager in the '80s and early '90s who launched careers for Lorne Michaels, John Belushi, Brad Pitt and Jim Henson, has died at 77. He had been suffering from complications stemming from double-bypass heart surgery in February, according to Variety. He was managing Mr. Michaels when Saturday Night Live premiered in 1975, as well as its breakout stars Mr. Belushi, Dan Aykroyd and Gilda Radner. Mr. Brillstein became an executive producer on many of his clients' spinoff roles in movies after Mr. Belushi asked him help with The Blues Brothers in 1980.
In the 1980s, the Brillstein Co. was among the first contemporary talent rep shingles to branch out into TV production in a significant way with shows packaged around clients, a list that included "Alf," "It's Garry Shandling's Show," "The Days and Nights of Molly Dodd" and "The Slap Maxwell Story."
In late 1991, when Brillstein partnered with Grey, who had joined Brillstein Co. in the mid-1980s as a manager, the company further expanded the scope of its film and TV operations. Brillstein-Grey Television fielded such noteworthy skeins as "The Sopranos," "Just Shoot Me," "NewsRadio," "Politically Incorrect with Bill Maher" and "The Larry Sanders Show." Brillstein-Grey Entertainment features included Adam Sandler's "Happy Gilmore," Jim Carrey's "The Cable Guy" and "The Replacement Killers."