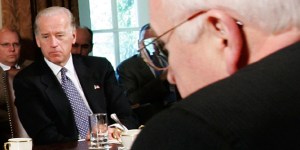 Strictly in terms of the November election, it's fair to liken Joe Biden to Dick Cheney, who was tapped to serve as George W. Bush's running mate in 2000 in an effort to reassure voters who were made uneasy by Bush's thin national security résumé.
The ploy worked for Bush: Cheney, a stern former defense secretary who had overseen the first Gulf War, was celebrated by the media for his "gravitas" — and he went on to score an unexpected victory in his vice presidential debate with Joe Lieberman. In the same way, Barack Obama hopes that the presence of Biden, a gray-haired 35-year veteran of the Senate who's on a first-name basis with numerous world leaders, will make it easier for voters to pull the lever for a presidential candidate who was a member of the Illinois state legislature less than four years ago.
But the rush to name Biden as "the new Cheney" is somewhat inaccurate, both in terms of the role Biden figures to play in an Obama White House and — at least potentially — in terms of Biden's own interest in ultimately seeking to claim the top job on his own.
Cheney, of course, has easily been the most powerful vice president in history, a man who has played a deep and often decisive role in devising and implementing policy and in filling some of the most influential posts in the administration. To assume that Biden will enjoy similar authority in an Obama administration misses a crucial difference: Biden's (potential) boss will enter office with a deeper knowledge of and interest in foreign policy than Cheney's did and will be engaged on the subject from the moment he's sworn in. Bush, by contrast, famously failed a pop quiz on world leaders as a candidate and entered office intent on not bothering himself with the details of world affairs. The crafty Cheney seized this vacuum, but even if Biden envisions such a role for himself, the same vacuum just won't exist.
That extends to other areas of policy-making as well. For instance, Cheney entered the vice presidency nursing a decades-long grudge against the legislative branch for what he saw as its creeping encroachment of the executive branch's authority. So he systematically set out, always behind the scenes, to restore and expand power to the White House. Again, a disinterested Bush, who had never shown any signs of engagement in separation-of-powers issues, served as Cheney's chief abettor. Obama, by contrast, would come to the presidency with a background in constitutional law and has his own well-established views on the subject.
Fundamentally, there's every reason to believe that Obama would be a vastly more engaged president than Bush. This doesn't necessarily mean he'd be more effective, but there'd simply be no room for Biden to carve out his own fiefdom and to issue edicts with impunity. (This doesn't mean Biden would be powerless or a mere figurehead — only that he'd be part of a team, offering his own expertise and views but not running his own show.)
Of course, this is assuming that Biden would even want to model his vice presidency on Cheney's. There are some basic but crucial differences between the two men. For one, Cheney has an almost nonexistent appetite for the public side of politics. He was surprisingly effective in his 2000 and 2004 VP debates, but his speeches and television appearances are rare — and he usually makes no effort to project warmth and to win the crowd over personally. For him, the 2000 campaign was an ordeal to be endured in order to gain unsupervised control over much of the White House. And once in office, he pursued his agenda as quietly as possible. You get the sense that even if there hadn't been a 9/11, Cheney still would have spent much of his first term in that notorious "undisclosed location."
Biden is the exact opposite. To be sure, he'd love to be vice president, but the chance to campaign on the national stage is, for him, a reward in itself. The man feeds off crowds and has a Clinton-ish appetite for rope lines. As vice president, there's every reason to believe he'd play an enthusiastic role in selling the administration's policies through interviews and speeches.
And then there's the question of long-term political aspirations. Cheney briefly toyed with a presidential campaign after his days as defense secretary, but wisely abandoned the idea in 1995. When Bush picked him in 2000, he was only 59 years old, so it would have been logical for him to serve two terms and then run on his own.
But he wasn't interested in that, perhaps calculating that he'd have more power working in the shadows as Bush's VP than as the president. Plus, there were health issues. Cheney had had three heart attacks when Bush tapped him, and he suffered a fourth before being sworn in in 2001. So from an early point, Cheney decided not to use the vice presidency, as almost all of his predecessors had, to lay the foundation for a future campaign. Instead, he focused on accumulating and exercising power within the administration.
There's some conventional wisdom that Biden, should he and Obama be elected this fall, will also swear off a future campaign – simply because he has no choice. He's 65 now (and will be 66 on Inauguration Day), the thinking goes, so 2016 will just be out of the question. But don't be so sure. In just the last 24 years, Republicans have nominated presidential candidates three times who were older than 70 – Ronald Reagan in 1984 (73 years old), Bob Dole in 1996 (72) and John McCain (72) this year. (And George H. W. Bush was, at 68 years old, hardly a spring chicken in 1992.) So why should anyone assume that Biden, who would be 73 in a 2016 campaign, is automatically disqualified from seeking to succeed a President Obama? After all, he doesn't have the health problems that Cheney does, he clearly has presidential aspirations, and few politicians enjoy campaigning as much as he does.
Dick Cheney was an undeniable asset for George W. Bush in the general election of 2000. And he's been an undeniable drag as vice president. Biden has the potential to be the same campaign-season asset to Obama, but his White House role would be much different.