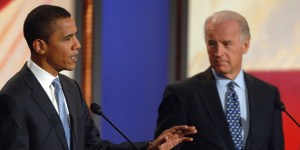 Maybe it will be Joe Biden after all. The buzz around him is only increasing. Here's what Howard Fineman reported just a few minutes ago:
Within the last few hours I've spoken with two of the finalists for the role of Barack Obama's running-mate, and to two other sources who are close to the process.
My bottom line is this: Barring a big surprise or last-minute change of heart, the choice is likely to be Sen. Joe Biden of Deleware [sic] chairman of the Foreign Relations Committee….
"If I had to bet my life on it, I'd bet it is Joe," said one of the other contenders.
But keep in mind: This kind of just-before-the-wire buzz can be very misleading. Fevered speculation like this caused about half of the national press corps to make its way to Ohio in July 1988, as Michael Dukakis's VP search drew to a close with all signs seemingly pointing to John Glenn's selection. A typical report from back then:
Dukakis has reportedly narrowed his selections to a list that includes (Jesse) Jackson, four senators and two congressmen.
They are Sens. John Glenn of Ohio, Lloyd Bentsen of Texas, Bob Graham of Florida and Albert Gore of Tennessee and Reps. Richard Gephardt of Missouri and Lee Hamilton of Indiana.
The odds seem to be favoring Glenn, who is certain to help Dukakis carry Ohio. Over the weekend, Bentsen indicated to reporters he was out of the running, and Democratic leaders doubt that Graham would be able to carry Florida, where polls show his popularity is eroding.
The next day, though, Dukakis announced that his choice was … Bentsen – the same guy who had just told the press he was out of the mix. It's an example that might be worth keeping in mind now that some of Obama's VP finalists are indicating the same thing to Fineman.