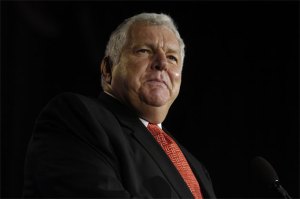 Writing on The New Republic's Plank blog, Zvika Krieger alerts us to the fact that Bush 41 "Drug Czar" and so-called "Bookie of Virtue" William Bennett and former Bush 43 special assistant David Kuo are launching a conservative answer to Slate. (This comes via Gawker.)
According to a posting on the UC Berkley Journalism Jobs board posting linked by TNR, the new publication, which is called Liberty Wire, describes its sensibility as follows:
Our editorial slant is big tent right-of-center—as open-minded about what we publish as The New Republic, The New Yorker or The New York Times Magazine, but on the center-right rather than the center-left. We'll publish apolitical pieces, explicitly conservative and libertarian pieces and even an occasional left-of-center piece. We're committed to rendering the world as it is, engaging ideas rather than dismissing them, intellectual honesty and conciliation rather than polemic.
Christopher Hitchens, get those clips ready!