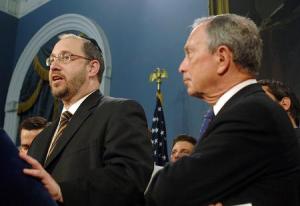 Michael Bloomberg just formally endorsed Democratic State Senate candidate Simcha Felder, who is in a three-way Democratic primary and trying to unseat Democratic incumbent Kevin Parker. The other candidate in the race is Kendall Stewart, who, like Felder, will be term-limited out of the City Council next year.
In a public statement released by Felder's campaign, Bloomberg said:
"Simcha Felder is an independent thinker who makes decisions the same way I do – by simply doing what he thinks is right for the people he represents. I rely on Simcha's advice on issues big and small because he is honest, fair, and speaks his mind openly."
"Honesty, openness and fairness are all too often absent in Albany – but that will start to change if Brooklyn Democrats vote to send Simcha Felder to the State Senate in September."
It's unusual for the mayor to get involved in a primary, especially on the side of a challenger, but Bloomberg has had an especially close relationship with Felder, giving him millions of dollars in discretionary funds.
To put the move in some context, Bloomberg gave $500,000 to help Republicans in the State Senate, so it's not a shock that he should be willing to cause headaches for the Senate minority leadership here.
UPDATE: Parker said in a statement, "Last minute endorsements don't matter. Voters know me and my record. They know I've been a champion for public education, they know I've fought to improve the quality of life for this community, and they know I have delivered for seniors. With their support, I will return to Albany as a Democrat in the Majority, and I will work with Mayor Bloomberg during his last year in office to continue building a stronger and safer Brooklyn."