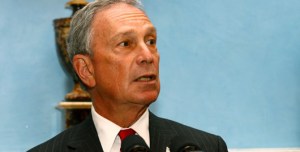 Michael Bloomberg offered a mixed review of David Paterson's plan to reduce state spending, which at the moment doesn't include a tax on the wealthy, but does call for reducing aid to local cities and counties.
At a press conference with reporters to discuss local efforts to combat climate change, Bloomberg first praised Paterson's reluctance to raise taxes, referring to the millionaire's tax, which is advocated by some in the Assembly, as a "crazy idea."
Bloomberg said, "You can't tax people who can move. And this crazy idea of–you know, if they're going to put a tax in – these people are going to move to Connecticut and New Jersey, and New York City is going to suffer because these are our taxpayers."
"But," he added more critically, "you also have to make sure that the state, when they cut back, doesn't cut back their aide to cities. Cause all that is doing is shifting the burden from the state to the cities and the sixty-two counties, and the five that make up New York City."
Bloomberg said the state should start by reducing services and cut from there.