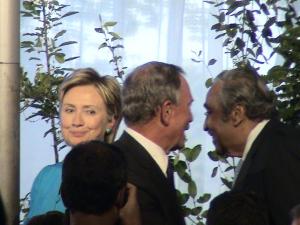 Michael Bloomberg welcomed Hillary Clinton back into New York's political scene with a party at Gracie Mansion last night, closing the two-hour party with a live chorus singing "You Ain't Seen Nothing Yet."
Among the guests were Governor David Paterson, Senator Chuck Schumer, Representative Charlie Rangel, Barbara Walters, Chevy Chase and Tina Brown. Inside Edition sent a crew.
After trading jokes about presidential ambitions with the mayor, Clinton told the crowd of political leaders, business tycoons and reporters that she's happily back at her job as New York's junior senator.
Standing at a podium beneath a white tent in the mansion's back yard, Clinton told the crowd she's glad to see "so many of my friends, catching up with all of you, knowing that many of you put your ideas and your requests on hold, and now, the hold is off. And I am open for business a hundred percent of the time."
And just in time.
Kennedy Benjamin, whose husband Michael is an Assemblyman in the Bronx, said she wanted to attend because "I wanted to thank her for standing up for us women. And that was really well received between the both of us."
Benjamin said she told Clinton about a program she's organizing with German exchange students in the Bronx, and that Clinton sounded delighted at the prospect.
"As you know, most of Germany is for [Barack] Obama. But I'd like for them to meet Hillary as well, so they can see how great she is," said Benjamin.
Others took the occasion to reflect on the Clinton experience.
"You could feel the emotion," businessman and major Democratic money man Alan Patricof said of the event. "There's such a strong, almost passionate feeling about her and her campaign. People are nostalgic and it takes a little while to get over it all." He added, "I came in from the Hamptons to come and I'm very glad I did it. It was a lot better than being in my pool."
Comedian Chevy Chase said, "I think she's a great woman. Whatever she wants to do, she could pull it off." Asked if she should run for another office, he said, "What do you want me to say? I'm not going to say she should run for mayor. That would be silly of me. Why should she run for mayor? She's a great senator."
Assemblyman Michael Benjamin, who supported Obama during the primary, said he and Clinton had a brief but good conversation at the party. And no, he said, she didn't notice the little blue-and-white Obama pin he was wearing on his lapel.
"We want to win," he said afterwards. "Any competition when the game is over, you've lost, you move forward and, you know, hail to the new king."
Earlier in the evening, Clinton joked about her conversation with Mayor Bloomberg.
"I was very touched [by] Mike's concern for me over these last months," Clinton told the crowd from the podium. "You know, ever since the campaign ended, and you know, I was really moved that he wanted to talk about the campaign: what happened, how it happened, how you did it, what was the reaction that you got, what was effective and what wasn't effective, what worked in advertising and direct mail."
The crowd by this point was in on the joke.
"I mean, he was so interested in me, that I was just transformed. I've always liked him but my gosh, I felt so special."