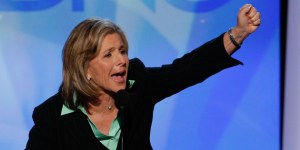 DENVER—Barbara Boxer just spoke to the convention, one of eight female Democratic senators (none of them named Hillary Clinton) to offer brief remarks. (This parade of women was introduced with a video message from Clinton.) Boxer spoke optimistically about the party's prospects this fall, both in the presidential race and in Senate contests.
"When it comes to the United States Senate," she said, "60 is the new 50."
But if Democrats do make major gains this year, it could complicate Boxer's own political future.
Boxer, who was first elected in 1992 ("The year of the woman"), next faces California voters in 2010. Boxer's outspoken liberalism has placed a definite ceiling on her support in her home state – she's been able to win re-election, but she lacks the overpowering cross-party appeal of her Democratic colleague, Dianne Feinstein. That might not be good for the 67-year-old Boxer's chances in 2010 if Arnold Schwarzenegger, term-limited out of the governor's office in the same year, opts to challenger her.
So far he's been coy, but he seems too young and too enamored of politics to not at least take a serious look at the race. A poll last year gave him a one-point edge over Boxer.
Boxer's odds of beating Schwarzenegger almost certainly won't be helped by a big Democratic year this fall. The combination of a Democratic president and robust Democratic majorities in both chambers would make G.O.P. gains in the 2010 midterm elections likely. With the national political winds blowing against her, Boxer would probably face an uphill fight against Schwarzenegger.
But if Obama were to lose this fall, Boxer's re-election prospects would brighten, for two reasons. One, a John McCain presidency would make it more likely that the midterm environment in 2010 will favor the Democrats. Also, a McCain presidency would create potentially alluring opportunities for Schwarzenegger to have a role in the administration, possibly even a high-profile cabinet spot.