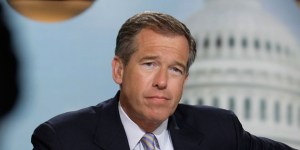 Tonight,  Brian Williams will interview John McCain from the Gulf coast in the pathway of Hurricane Gustav for Sunday's Nightly News. In the meantime, Tom Brokaw will be heading up the network's coverage of the RNC convention in St. Paul.
Over at MSNBC,  Dan Abrams will be anchoring the channel's primetime hurricane coverage on Sunday from a studio in New York. On Monday, Mr. Abrams will handoff to Keith Olbermann. Chris Matthews will be anchoring the convention coverage from St. Paul.
More from the NBC release:
NBC News' Ann Curry, Lester Holt, Al Roker and a team of correspondents including Contessa Brewer, Don Teague, Janet Shamlian, Kerry Sanders, Lee Cowan, Mark Potter, Mary Murray, Michelle Kosinski, and others, will also be on location.  Coverage will extend across MSNBC, and the networks of NBC News will benefit from Weather Plus and a preliminary agreement with The Weather Channel by utilizing their expert teams on and off air.
NBC News' Tom Brokaw will head up the network's coverage of the RNC live from St. Paul.  He will be joined by the network's political team of Andrea Mitchell, Chuck Todd, David Gregory, John Yang, Luke Russert, Kelly O'Donnell, Mike Taibbi, Savannah Guthrie, Tom Costello, among others.
MSNBC will have continuing live coverage of Hurricane Gustav beginning today, with Dan Abrams anchoring in primetime from New York, with reports from NBC News and MSNBC correspondents on location across the Gulf Coast.  MSNBC will continue live coverage throughout the day Monday, with Keith Olbermann anchoring the network's coverage of Hurricane Gustav in primetime live from New York.
Chris Matthews will lead MSNBC's coverage of the Republican National Convention from St. Paul, with Norah O'Donnell leading a panel of MSNBC political analysts Rachel Maddow, Pat Buchanan and Eugene Robinson.