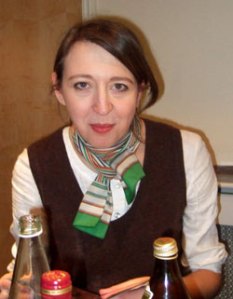 Before Mitzi Angel became the new head of FSG imprint Faber & Faber here in New York, a job she started only a few weeks ago, she lived in London with her boyfriend and worked as an editor at a small literary publishing house founded during the mid-1980s called 4th Estate. It was an enormously successful operation for an independent, and it was not long after Ms. Angel joined up that it merged with HarperCollins UK. Because so many people quit or were laid off in the aftermath of the transition, she rose quickly and was soon known as an editor with an uncommon talent for finding new writers. Indeed, it was only 10 years ago that she was an intern at Random House UK.
Faber & Faber Inc., the imprint Ms. Angel is now in charge of at FSG, opened for business in 1982 as the American colony of an old and historic British house of the same name. That house, unparalleled in the prestige of its backlist, was known for publishing the likes of Eliot, Joyce and Pound and, more recently, Günter Grass, Seamus Heaney and Orhan Pamuk. The U.S. offshoot, however, was a safety net by design, intended to step in and publish any Faber book that could not find a home with a proper American house. In 1998, Faber gave up on the project, and sold all but 20 percent of the company to FSG. A new senior editor named Denise Oswald was installed as its steward, and over the course of the next 10 years, the American Faber brand grew into a reliable destination for thoughtful books on pop culture, music and film.
Ms. Angel's appointment marks the beginning of yet another new era for Faber, one in which FSG publisher Jonathan Galassi hopes the imprint will edge back toward its distinguished U.K. roots and grow into a more literary, more sophisticated boutique that publishes a lot of debut fiction and what is so tediously referred to by book people as "high-quality nonfiction."
Which is, conveniently, precisely what Ms. Angel had so much success doing at 4th Estate. Her greatest publishing victory to date came when she took a chance on a debut novelist from Nigeria named Chimamanda Ngozi Adichie, whose second book, Half of a Yellow Sun, won the Orange Prize and sold hundreds of thousands of copies as a result of being featured on a British television show whose influence over book buyers is not unlike Oprah's. Careers have been made on far less, as they say, and Ms. Angel went on to acquire and expertly publish books by previously unknown authors like Ishmael Beah, Alaa Al Aswany and Rivka Galchen. Between that and her exposure and familiarity with the rest of the 4th Estate list—which includes Jonathan Franzen, Michael Chabon, Michael Cunningham and Annie Proulx—it was clear to Mr. Galassi that Ms. Angel, whom he met for the first time in New York about a year ago, had the very sensibility that he was after for the new Faber. Ms. Angel also had the blessing of Stephen Page, the CEO of Faber & Faber in the U.K., who worked with her when he was the managing director of 4th Estate.
Ms. Angel, 34, said the other day that everyone in America laughs at her when she tells them she's happy to be in a country where book publishing is not so terribly gloomy a business.
"Here, to me, it seems like a dream in comparison," she said apologetically. "It's really bad over there."
She spoke with the unsentimental dignity of a person who has escaped great suffering.