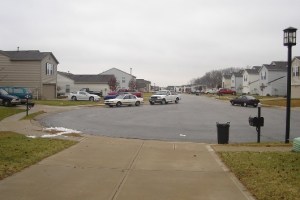 One of my favorite things about the suburbs are the supermarkets. I love the sprawling aisles, the enormous selection, the friendly cashier and, of course, the car that brings all those heavy, super-sized containers home.
Though the suburban life is plentiful in many ways, space is a major one, it is urban dwelling that I and many others have chosen. Notably, in Park Slope. Last week, I was invited for beers in the comfy backyard of a gorgeous brownstone in the Slope and we got to talking about what life is like in Brooklyn's utopian paradise.
My date and I sat drinking Stella Artois with a couple of local husbands on a balcony overlooking a lovely garden. As the sun disappeared from the sky, another guest asked if the host, Dave, should turn the outdoor light on.
"I'd rather you didn't," Dave replied. "I only installed that light to piss off my neighbor."
His neighbor, whose yard faces opposite, apparently had declined to turn off his bright lights upon request, so Dave retaliated by installing his own very bright light. As the summer winds to a close, resentment towards one's neighbors has hit a fever pitch. Backyard and rooftop parties have made the blood of nearby neighbors boil, though they might admit to overreacting just a bit to the social lives of others. "It was easier to hate the other, instead of hating myself," confessed Dave.
"Park Slope is full of people from other suburbs," chimed in Dave's neighbor Michael, a local property owner. A Brooklyn native, Michael has seen a long span of change in his hometown borough and had a few opinions to offer, especially after a drink or two. His major complaints were the lack of diversity which the area used to have, and the influx of seemingly vapid yuppies obsessed with affluence. "They walk down the street and they're like 'I'm holding the baby Jesus.'" he joked. "If I see one more Brooklyn jerk in a Brooklyn whatever…"
As I looked around, I couldn't help noticing the irony of this supposedly urban idyll. Listening to the grappling about whose flowers grow over what fences, how late neighbors played loud music and keeping tabs on who's doing what, I was happy to live on the less priggish side of Flatbush Avenue.
It's safe to say the gentrification process is complete in Park Slope, and I wondered, is it not just a cul de sac off the main street that is Brooklyn? A nice place where you can walk to the park, rely on public schools and drive your car to the supermarket, or Ikea and Target?
"It's like they ask themselves, 'where can we go if we have no people skills?'" Michael chimed in. "Brooklyn!"
As the conversation winded down, fireworks appeared in the sky above Prospect Park as if to offer a smug self congratulatory pat on the back to neighborhood residents. We're so great we shoot off fireworks on a Wednesday.

Despite all the animosity in Park Slope, it seems you can at least all agree on one thing this week: Barack Obama.