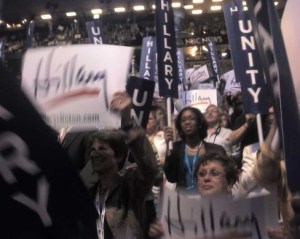 DENVER–During the speeches leading up to Hillary Clinton's primetime address to the Democratic Convention last night, the New York delegation seemed distracted.
"We don't need McCain here — put them down!," Maria Luna, a Clinton delegate from Manhattan, screamed at her delegation, which was waving "McCain More of the Same" signs above their heads. She jumped out of her aisle seat and onto the steps. "Down," she screamed. "Down!"
"Maria. Calma," said State Senator Bill Perkins, who sat in the second row. "Calma." Then he saw a friend trying to pass through the convention's clogged main corridor just below the delegation. "Guillermo, Guillermo, como vas?" Massachusetts Governor Deval Patrick was telling his life story on the stage.
"How can we get a few more tickets to Invesco?" one delegate called up to another who touched his ear to say he couldn't hear. "Tickets!" the first delegate repeated.
The governor of Montana, Brian Schweitzer, came on the stage and talked about American values and pumped most of the convention center up. Delegate David Mejias, an elected official from Long Island, not so much.
"A lot of time for the governor of Montana," he said.
Most people were watching the traffic jam in front of them.
A convention worker asked Luna to sit down, because they needed to clear the steps.
"You with the D.N.C.?" Luna asked. The woman, who was wearing an official looking fluorescent green vest, gave a noncommittal answer. "Who are you? Why you telling us what to do?"
The jam got worse and the convention workers called for reinforcements to physically move people along. "I'm by New York on the floor, we need more security," one D.N.C. worker name Eureka said into her walkee talkee. When security came, she pointed to the New Yorkers milling around their seats. "Security I need you to push them, I need this area clear. In addition we can't move the signs up the aisles."
That proved to be a problem, because when the lights dimmed, the delegations knew something was afoot. "Signs!" screamed one member of the delegation. "Get us the signs!"
A movie about Hillary Clinton playing on the convention's jumbo screen, and the delegation exploded out of their seats. During the lengthy video, the delegation had somehow procured scores of white signs. So had everyone else. When Chelsea Clinton introduced her mother, she did so to a convention center blanketed in white.
Perkins, who supported Barack Obama, observed with a note of exasperation that the signs were paid for by the Obama campaign. "Obama paid for it," he said.
In unison the delegation screamed "Hill-a –ry, Hill-a-ry." Perkins countered with "U-ni-ty U-ni-ty." Robert Perkins, a Clinton delegate and city councilman sitting to Perkins' right, chimed in: "Barack-O-Bama, Barack-O-Bama."
On stage Clinton took a sip of water. As she gave her speech, many in the delegation were visibly stirred. Sitting in the upper rows, former public advocate Mark Green clutched the crutches he was using for an injured foot. When Clinton quipped about the "sisterhood of the traveling pantsuit," Kathleen Donahue, vice president of the New York State department of teachers, bawled. When she concluded, Mejias said she "single-handedly brought the party together." Perkins said she had accomplished her mission, "and then some." City Councilman Robert Jackson, zen-like, talked about how a fist was stronger than five individual fingers. Luna wiped tears from her eyes.
"Awesome," she said. "That woman is just awesome. It's such a shame."