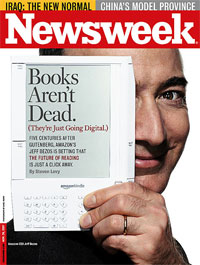 Portfolio.com has a story up by Edmund Lee about Amazon's clever and admirably imaginative use of word of mouth as a means of promoting that little white reading machine they've been so excited about lately. Basically, they started a message board—proving once again that Web 2.0 is just a fancy version of what the internet in the early 90s—where people who want to see an actual Kindle in real life can post their location and wait for somone who lives nearby and has a bit of time on their hands to come forward and schedule a meet-up.
To wit: around lunchtime yesterday one Karen Bosscher from Lubbock, Texas posted a message asking if anyone in her area had a Kindle she could see so she can figure out if it's right for her family. This morning P. J. Gueras responded, telling Ms. Bosscher that although she and her husband live in Austin, they were planning to be in Lubbock for a wedding on Saturday, October 4th and could meet the. "If no one in Lubbock replies to your post, maybe you could meet my husband and me for breakfast to look at and discuss my Kindle before we leave for Austin on Sunday, October 5th," Ms. Gueras wrote.
There was some more back and forth after that but it all ended well and Ms. Bosscher will be getting a look at that Kindle in just over a month.
All told, a sound innovation! Hopefully there won't be murders.