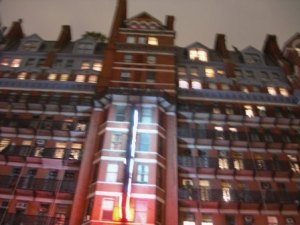 Residents of the illustrious-yet-embattled Chelsea Hotel will get some face time with new manager Andrew Tilley over drinks at El Quijote tonight — including some of the tenants that Mr. Tilley and the hotel's owners have been trying to evict in recent weeks.
Meanwhile, tonight, in the hotel's grand ballroom, calling hours are scheduled for Chelsea inhabitant Angela O'Conner, 46, who was found dead late last week in a room on the ninth floor, after neighbors complained of a nasty odor.
Welcome to the Chelsea, Mr. Tilley!
It's a precarious position to be in: Since taking the daunting job several weeks ago, the former Hard Rock Hotel frontman has publicly sought to smooth over lingering tensions between longtime Chelsea tenants and the new regime, recently issuing a friendly introduction letter and assuring local paper Chelsea Now of his intention to uphold the iconic inn's artistic legacy.
Yet, at the same time, he's had to carry on the divisive prior management's tradition of issuing blunt notices of non-payment to resident creatives who, in the past, had been granted great leniency rent-wise. (Some legendarily bartered with artworks.)
Chelsea Hotel blog Living With Legends this week highlighted the case of Jim Georgiou, 49, a six-year hotel resident and teacher of the self-healing Chinese internal art Xing Xing Shen.
Mr. Georgiou said he was left virtually incapacitated through the painful process of exorcising his own personal demons over much of the past 10 months, with symptoms best described by Western medicine as "chronic fatigue" — "It's esoteric, what can I tell you," he explained to this reporter — and had gotten behind on the rent by more than $17,000, according to court papers.
Friends recently pitched in to help Mr. Georgiou pay off the debt and settle his case. Ironically, management's petition against Mr. Georgiou actually benefited him through the revelation that his apartment is now registered as rent-stabilized.
Another resident recently slapped with a late bill of $18,444 has since lawyered up and joined the growing ranks of Chelsea denizens currently pursuing overcharge claims against the hotel. Court papers indicate that fifth-floor Chelsea tenant Olivier French may have overpaid by about $14,800 since 2004 and is now seeking "treble damages" in the amount of $44,400.
Management also continues to pursue eviction proceedings against terminally ill former rock musician Jann Paxton, whose case has long been stayed by request of his city-appointed guardian.
Bet none of this stuff ever happened at the Hard Rock!