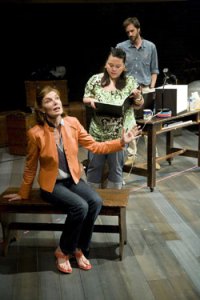 Why do we go to the theater? Put it another way: Why, oh why, do we go to the theater? It frequently frustrates and disappoints us. And it's expensive. Yet we keep going, come what may.
But look at it from the point of view of the people who work in theater. It frequently frustrates and disappoints them. And it's expensive for them, too, because as a general rule of thumb they're criminally underpaid.
Theater folk are the ones who subsidize the theater the most. So I was delighted by a peach of a line about their fatal attraction to a precarious life, one that comes in the last minutes of A. R. Gurney's wry backstage story, Buffalo Gal.
The disillusioned director of a regional theater in Buffalo, N.Y., has just lost the star of her new production of Chekhov's The Cherry Orchard, when her Madame Ranevskaya decides to abandon the play to return to Hollywood to star in a new TV soap opera as Granny Sweetpants.
"Why do you stay in this business?" Jackie, the director, asks her longtime stage manager.
Roy stops work for a moment. "I like all the talking," he replies.
What an amazing line! I don't know about you, but it simply hadn't dawned on me that people never stop talking onstage. They pause, but only occasionally. There might be a sword fight. Whichever way you look at it, theater is all jaw.
"Oh, God. Talk, talk, talk," Jackie replies. "Onstage and off. It's all talk, and you like it?"
"I love it," Roy explains, and adds an unusual embellishment: Both his parents were deaf as posts. "Still I relish the sound of words," he goes on in a short speech that's A. R. Gurney at his very best. "And I love the stage because we have this reverence for language. And any enterprise which depends so much on what people say, and how they say it, must be at the heart of what it means to be civilized. So I want to devote my life to it."
A Chekhov character could have said that.
THE 77-YEAR-OLD Mr. Gurney is our poet laureate of doomed WASP-dom, and the conceit in Buffalo Gal is its restrained sense of Chekhovian loss and self-delusion. The playwright was born in Buffalo (as, indeed—he reminds us in the play—were Nancy Marchand and one of the Flying Wallendas). Produced by Primary Stages at 59East59 Theaters and directed by Mark Lamos, Buffalo Gal concerns the fading star actress Amanda's homecoming and her long-awaited return to the theater to play Ranevskaya (whose own homecoming to her nearly bankrupt estate sets in motion The Cherry Orchard).
It's said of the broke, lost, aristocratic Ranevskaya that she mislaid things so often, she even mislaid her life. Amanda—alcoholic, three times married, a three-time Emmy winner, granddaughter of WASP grandees—is a similar blue-blooded case of careless dispossession and ill fate. But Mr. Gurney's emphasis in Buffalo Gal is less on the bankruptcy of the old WASP ruling elites, and more on another endangered species: the theater.
Mr. Gurney is saying genially that what ails the theater is its reliance on visiting Hollywood stars like Amanda. (We will forgo mentioning the playwright's popular star vehicle, Love Letters, which has kept regional theaters going for centuries.)
It so happens that Susan Sullivan, who plays Amanda, is famous for playing Maggie Gioberti on the prime-time soap Falcon Crest, as well as Kitty Montgomery in Dharma & Greg—but Ms. Sullivan is an excellent stage actress who gives a fine and amusing impersonation in Buffalo Gal of an actress who can't really act.
Amanda recently played a judge with Alzheimer's on CSI: Miami. "Everybody does judges when they need money," she explains breezily. She's the sort of delusional actress who bows before the god of theater, but can't remember her lines. (She approximates them instead.) Arriving at the Buffalo theater the day before rehearsals begin, she's horrified to learn that the role of Ranevskaya's brother has been recast at the last minute with a black actor named James Johnson.
"One thing about television: They don't do that," Amanda says firmly. "Black is black and white is white. For better or worse."