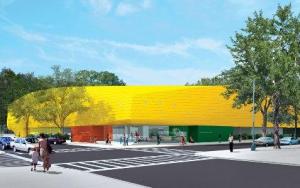 The Brooklyn Children's Museum — the hands-on instititution popular with tykes from Tremont to Poughkeepsie — is slated to reopen as the first LEED-certified museum in New York City on Sept. 20, according to a spokeswoman for the project and Interior Design.
The Rafael-Vinoly-designed addition to the Crown Heights insititution will, according to the design mag, double the size of the museum to more than 100,000 square feet. The addition, covered in 8.1 million (!!) very, very yellow ceramic tiles, will presumably allow for more exhibition space (and maybe even bigger digs for Fantasia, the 17-foot-long Burmese Python?).
To achieve LEED-silver certification, the addition has "rapidly renewable and recycled materials" like "bamboo and recycled rubber flooring. Geothermal wells are used for heating and cooling purposes, a first for New York museums. Photovoltaic cells on the exterior walls convert solar energy directly into electrical power, and energy-saving sensors control interior lighting and ventilation systems. All this should certainly prepare the architect for his next project: the design of the city's first LEED-rated police station."
The museum isn't the first one in New York State to earn the coveted green certificate. Earlier this year, the Wild Center/Natural History Center of the Adirondacks achieved a silver rating.