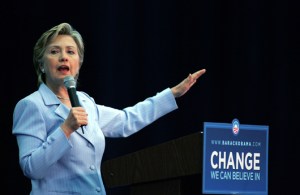 At around 7 p.m. on Sunday night, Representative Charlie Rangel walked out of a Sheraton ballroom in the heart of downtown Denver and told The Observer that Hillary Clinton had instructed him to spread the word to New York delegation to vote for Barack Obama.
This was very bad news for members of the Clinton-holdout group PUMA, or "Party Unity My Ass," whose members started gathering on the other side of town about an hour after Rangel made Clinton's wishes clear.
In a flat, windswept part of Denver known, depending who you ask, as LODO, for lower downtown, or RINO, for River North, where the city's yellow cab company once had their depot and where office and loft space now sit in the middle of parking lots and tall body-dumping grass, the PUMA women, and a smattering of PUMA men, held a premier of the anti-Obama movie, "The Audacity of Democracy." Under pink and yellow neon lights at the sleek Fuel Café, the group's organizers offered a respectable spread of sautéed spinach, prosciutto-wrapped dates, seasoned mushrooms, falafel, mushrooms and assorted salads, including one fattened with steak. The party had a cash bar, but it carried all sorts of top-shelf alcohol served by a handsome wait staff dressed seriously in culinary whites. A large contingent of foreign press, nearly outnumbering the Clinton loyalists, gave the proceedings an even greater air of sophistication.
A reporter from Le Monde interviewed Edwin Paytner, a round man who blogs as Texas Hill Country, for more than a half an hour. Two German reporters flanked Darragh Murphy, the founder of PumaPac, who has accused Obama supporters of killing bunnies as a scare tactic, scribbling her every word into notebooks. A glamorous Italian reporter talked sympathetically to a white-haired woman in a white Hillary t-shirt .
Taku Tsuchiya, a Japanese television reporter explained the intense international scrutiny.
"It's interesting," he said, "Because Obama's popularity is declining right now and they might have something to do with it."
Actually, probably not. But the small group of Clinton outliers boasted about all the attention they had scored nonetheless.
"Obviously we're making some noise," said Lynne Robinson, one such Clinton diehard, who lives in New Mexico. "You're all here."
That the press loves conflict and tension in a narrative is no secret, but what is less well known, and probably as relevant to all the press attention the PUMAs have garnered, is that some of the group's leading voices proudly describe themselves as public relations professionals.
And Diane Mantouvalos, the tall and deeply tanned co-founder of JustSayNoDeal.com, Murphy, and Elizabeth Joyce, who edits a site called Hireheels.com (motto: "We adore shoes but we love Hillary") all seemed to subscribe to the flirtatious school of flackery: eye contact studiously maintained, hands meaningfully squeezed. Physical assets went enhanced, not hidden. (Though some blemishes you just can't hide. Joyce wore a slinky black dress that sparkled like glass in new asphalt, a black stiletto shoe on one foot, and an enormous ski-boot like cast on the other. She explained, "The day Hillary conceded, no, no, I mean suspended, a deer crossed in front of my path on a four-lane highway in rural New Hampshire, and I was thrown from the Harley Davidson. I was riding bee-atch. Just Say No Deal was born the next day.")
As some of the more conservatively dressed PUMAs ate hummus, Andy Martin, who wrote the book "Obama: The Man Behind The Mask," ("It's kind of the bible for them," he said) paid the three women several compliments on their appearance. "So, are you Irish?" he asked Joyce.
Some of the women sitting around a table in the back of the Fuel Café's bar seemed less interested in the media and PUMA celebrities.
One of them, Billie Jo Conlee, from Walnut Creek, California, got up only to get another drink, though she did enjoy the compliments she received from her friends about her shirt, onto which she had painted an actual puma and written in black ballpoint ink, several times to make it sufficiently bold, the letters "HRC" inside a rhinestone heart. For the most part though, Conlee was angry, especially when she heard about Rangel's comments only about an hour earlier.
"It makes me very upset," she said. "We will vote for McCain, and it is going to break my heart."
Joan Lipman, a theater director, also said she would support Clinton against the senator's wishes. It was she said, a question of ethics, a subject upon which she considered herself an authority. "I should know," she said, "I won the James F. Hornback ethical humanist of the year in 2007."
For about an hour the women drank cocktails and explained to the press why they were not, not!, sore losers, but instead the last-ditch defenders of democracy who were equally appalled by the sexism they perceived Obama to have committed against Clinton and the short-circuiting of the nominating process (read: caucuses) which led to Obama's victory.
Watching them drink and eat and chat and self promote from outside the kitchen's swinging door, Josh Forcum, the café's chef concluded, "I think it's more about the ride than the outcome. They're having a good time."
Shortly after 9 pm, one of the organizers announced that the moment for the long-awaited, and much publicized, screening had arrived. Everyone filed into the back room with a high ceiling and a roughly 32-inch flat screen television facing ten rows of foldable seats, where the PUMAs sat for some time, growing restless as nothing happened on the screen, no matter how many buttons and jacks were pressed or prodded.
"They're trying to make it work," one elder-stateswoman PUMA member said after rising from her seat. "If everybody could just relax."
To kill time, Murphy, dressed in a red gown, thanked all the PUMAs from all over the country for coming. "I'm not going to cry," she said bravely.
Another few minutes went by. The director, Brad Mays, a shaggy man who looked something like Bruce Vilanch, stepped forward and explained to the impatient women, "I was just burning the disk like 40 minutes ago," and offered some technical information about the television's "ratios." He warned the viewers that what they would ultimately see would be heavy. "Some of this will be like reading Marshall McLellan when it first came out," he said. "Difficult to wrap your head around."