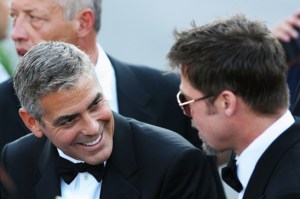 OMG could George Clooney and Brad Pitt please stop being so charming/funny/arch whatever they are? At a Venice Film Festival press conference today promoting the new Coen brothers movie Burn After Reading, the irrepressible duo found themselves answering the same questions we swear they did last year, or at some other press thing.
Reporter to Brad Pitt: Will Clooney ever settle down?
Clooney to reporter: "I am so surprised to hear that question. That is honestly the first time I have been asked that…I am getting married and having a child today."
Pitt then told Clooney that he could share his own six-child brood, since he'd "have two more by next year."
Ha, ha guys!
The Associated Press (via the NYT) also noted that a clever (cough) Spanish journalist forced her way to the front of the conference, donning red gym shorts like the ones that Pitt wears in the movie, in which he works at a gym. She then asked Pitt if he'd help her work out.
"It's a movie," Pitt reminded her.
"Would you run after me?" she asked Clooney and Pitt.
"I think we're more likely to be running away from you," Clooney replied.
Smart thinking.