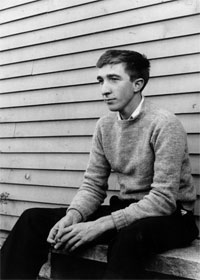 Yesterday on The New York Times' Paper Cuts book blog, Times Book Review and 'Week in Review' editor Sam Tanenhaus took a look at James Wood's How Fiction Works, specifically, Mr. Wood's critique of John Updike.
As Mr. Tanenhaus writes, "Wood suggests that Updike's fiction doesn't work very well at all, in part because Updike's prose, like Vladimir Nabokov's, is oversaturated with pointillist descriptions that, Wood objects, 'freeze detail into a cult of itself.'" He then goes on to quote a particularly florid passage from Mr. Updike's Of the Farm, which Mr. Wood thinks is "an exaggeration of the noticing eye."
Mr. Tanenhaus then quotes the novelist Nicholson Baker on the same passage from his Updike tribute book, U and I as a "counter-argument." (In Mr. Tanenhaus' words.)
The reader is left to compare Mr. Wood's and Mr. Baker's takes on Of the Farm until Mr. Tanenhaus ends his post:
Who's right here, Wood or Baker? Or might it be that novelists have a different idea of 'how fiction works' than critics do?
Uh-oh. Here come the commenters, many of whom seem to object to Mr. Tanenhaus' adversarial premise (the piece is headline, "Wood v. Updike v. Baker").
"Isn't it silly to ask who is right about a work of art?" asks a commenter called lily. "Doesn't it miss the point completely? How can an opinion be right or wrong?"
"Oh yuck. You ruined a nice thoughtful piece with a pointless instrumental question. Is this an American thing?, scolded someone named Reg Tippett.
"Your final question implies that novelists among themselves and critics among themselves agree about 'how fiction works,'" said a commenter named Kevin McNamara."That premise is implausible, to say the least."
We'd ask who's right here—Mr. Tanenhaus or the commenters—but in the spirit of the Olympic Games, we'll ask for unity and an end to the fighting.