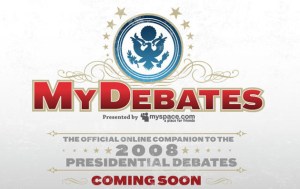 Today executives with News Corporation's MySpace announced that they have formed a partnership with the Commission on Presidential Debates to create MyDebates.org—a site that will include a downloadable application capable, in part, of streaming the fall presidential and vice presidential debates live. 
Yesterday, the commission announced the slate of moderators for the fall debates, which will include PBS's Jim Lehrer, NBC's Tom Brokaw, PBS's Gwen Ifill, and CBS's Bob Schieffer. It's an esteemed group. But also one that's somewhat long in the tooth.
Back in April, we wrote about Google's frustrated attempts to team up with the commission on some sort of new media debate. That attempted partnership ultimately fell through. But it has long been expected that the commission would add some sort of digital component to this year's highly anticipated political showdowns.
From the press release:
MySpace will launch 'MyDebates.org' – a new website which will house online tools to promote deeper levels of political engagement with viewers at home. Visitors to the site will have the option of downloading a personalized application which, during the debates, will stream the television event live from the embed location (e.g. within a blog, social network, or website). The application will also provide users with an on-demand playback functionality as well as issue-based tracking, allowing users to track a candidate's stance on issues they care about throughout the live stream. The full functionality will be available in the days leading up to the first Presidential debate on Friday, September 26.
Additionally, 'MyDebates.org' will feature high-quality video streaming and as the candidates are speaking, "issue icons" will light up as candidates discuss specific main topics. Users will be polled periodically throughout the debates with short questions with multiple choice answers (or iconic responses, e.g. thumbs-up/ down). This format will reduce distraction while eliciting specific and valuable feedback.
Immediately following each debate, 'MyDebates.org' will house videos of the debates in their entirety, available for viewing at any time. Videos will be "bookmarked" to allow users to easily jump to their important issues, and will be searchable and tagged by event, candidate, issues, and questions asked of the candidates. Users can also "share," "comment" and "rate" links in the Video Clip Player. MySpaceTV will host the debate clips which will be accessible to anyone on the Internet.