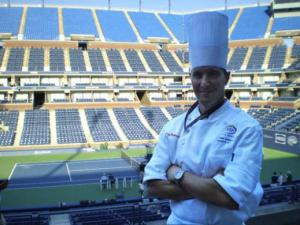 In the current issue of the Observer, Chris Shott takes a look at the people who pull together the concessions at the U.S. Open. In terms of hedonistic indulgences, ya ya yow.
"Last year, we did 230,000 hamburgers and hot dogs, 30,000 pizzas, 5,000 pounds of pasta, 13 tons of steaks, 77,000 pounds of chicken breasts, 4.5 tons of crab and lobster," said Bill Wilson, director of operations for Chicago-based concessions behemoth Levy Restaurants that runs the Open's concessions.
All in all, 250 chefs and restaurant managers and 1,500 hourly workers manage to keep it together.
They've also started a new wine bar this year–which we'll investigate later this week–and they already have a big fan.
"Our first customer was Stanley Tucci," said chef Tony Mantuano. "He was the celebrity line ump that day, and he came up after he was done and had a couple of glasses of pinot grigio and some marinaded olives and was very complimentary."