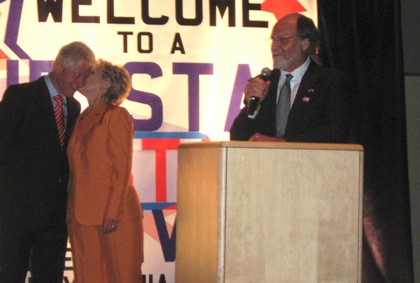 DENVER – Sen. Hillary Clinton's (D-N.Y.) speech was over, but the night wasn't done.
Invesco Field crowded the horizon like a set-piece out of "Close Encounters of the Third Kind," and State party Chairman Joe Cryan and West New York Mayor Sal Vega trudged under the crisscrossing Denver highways, leading a scattered contingent of the New Jersey delegation.
Inside they were greeted by the familiar strains of Bon Jovi's "Living on a Prayer," and when the rest of the haggard-looking delegation finally arrived, either by foot or bus from the nearby Pepsi Center, they found a stage overcrowded with Gov. Jon Corzine, Pennsylvania Gov. Ed Rendell, and New York Gov. David Patterson.
Joining the governors on stage were none other than the Clintons.
Rendell introduced Corzine and the governor yelled to the crowd, "I've never been more fired up. The reason I supported Hillary Clinton came out in every word!"
The crowd was pumped, and when Hillary Clinton finally stepped up to the stage the emotion spilled forth.
"We're going to leave unified, but then the real fight starts," she cried, before introducing her husband, who left office with "a budget surplus, peace and prosperity and record numbers of new jobs."
The former president cracked, "I forgive her for upstaging me tomorrow night. I'm so proud of her tonight."