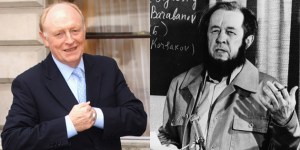 O.K., so this may prove to be one of those flare-ups that's extinguished and forgotten before anyone really notices, but there's plenty of chatter in the blogosphere today about the striking similarities between the moving personal anecdote from his Vietnamese captivity that John McCain recounted at Saturday's Saddleback forum and one that the late Aleksandr Solzhenitsyn told from his gulag days.
Here's what McCain said on Saturday night, to a question about what his faith in Christ means to him personally:
It was Christmas Day. We were allowed to stand outside of our cell for a few minutes, and those days we were not allowed to see or communicate with each other, although we certainly did.  And I was standing outside for my few minutes, outside my cell.  He came walking up.  He stood there for a minute and with his handle on the dirt in the courtyard he drew a cross and he stood there, and a minute later he rubbed it out and walked away.  For a minute there, there was just two Christians worshipping together.
And now here's Solzhenitsyn's story, as relayed by Father Luke Veronis, an Orthodox Christian priest:
Laying his shovel on the ground, he slowly walked to a crude work-site bench and sat down. He knew that at any moment a guard would order him to stand up, and when he failed to respond, the guard would beat him to death, probably with his own shovel. He had seen it happen to many other prisoners.
As he waited, head down, he felt a presence. Slowly, he lifted his eyes and saw a skinny, old prisoner squat down next to him. The man said nothing. Instead, he drew a stick through the ground at Solzhenitsyn's feet, tracing the sign of the Cross. The man then got back up and returned to his work.
Besides the clear similarities, McCain's story is being greeted with skepticism because, as Andrew Sullivan points out, he never mentioned it in his original accounts of his prisoner days.  Plus, as BeliefNet's Steven Waldman notes, McCain's emphasis has evolved since he began using the anecdote about a decade ago: "The story has gradually morphed from being about the humanity of the guard to being about the Christian faith of the guard and John McCain." The Saddleback forum, of course, was aimed at Christian conservative voters.
Who knows if this will amount to anything? Perhaps making the sign of the cross in the dirt wasn't an uncommon act in prisoner camps, whether in Vietnam or Siberia. It's certainly possible that McCain's anecdote is as true as Solzhenitsyn's. And even if it isn't, all McCain really has to do is stand by his version. It's not like anyone with any direct knowledge of the situation can contradict him, and if it's a question of his word – well, doesn't the man who spent almost six years in a prisoner of war camp get the benefit of the doubt (whether fair or not)?
But there is one potentially interesting complication for Barack Obama, who – at least according to the latest media buzz – is seriously considering adding Joe Biden to his ticket. When he first ran for president in 1987, Biden was caught red-handed lifting personal anecdotes from Neil Kinnock, then the leader of Britain's Labour Party, and claiming them as his own. At the time, Biden seemed to be emerging as one of the front-runners for the '88 nomination, but the ensuing media firestorm (which included further revelations of inflated claims by Biden about academic record) compelled him to exit the race.
The Kinnock scandal never really factored in Biden's presidential campaign this year (save for a fleeting cheap shot from Rudy Giuliani) – probably because it's such old news, but also in part because Biden was never seen as having much of a chance. But if the McCain/Solzhenitsyn angle takes off in the media in the coming days, it could spell trouble for Biden, forcing his own past back into the headlines just as Obama wraps up his VP search.