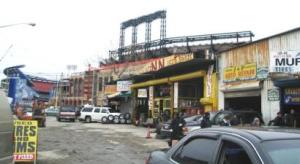 A majority of the City Council signed a letter firmly opposing the Bloomberg administration's proposed redevelopment plan for Willets Point today, demanding more commitments to below-market rate housing and the creation of a broad relocation plan for the existing workers and employers. The letter, signed by 30 members of the Council, marks the planned 61-acre redevelopment by Shea Stadium with additional uncertainty as it moves nearer to the end of the city's seven-month public approval process [here's the letter as a Word file].
The Council members wrote that they were in "absolute opposition to the current Willets Point Development Plan," a troubling statement for the Bloomberg administration, which needs City Council approval for its plan.
The City Planning Commission has a hearing on the plan tomorrow, though the day of reckoning will likely come in November, when the Council is slated to vote on the plan. Local Councilman Hiram Monserrate has led the Council's resistance to the plan, and in previous conversations was clear that he has no intention of voting for a plan until the city reaches buyouts with far more property owners (so far it has made four tentative deals, out of a total 70 to 80 property owners), among other conditions.
The Council letter is the second such pronouncement, the first of which came in April when 29 members expressed opposition. Since then, one of the main points of resistance—a lack of commitment to wage and labor guarantees pushed by unions—has been resolved, though that apparently is not enough to get the Council members in the administration's court.
Some of this can certainly be chalked up to the typical dance that goes on before a land-use vote, where Council members push back against the city in order to wrest concessions. Rejections at the Council are almost unprecedented, though probably best to never say never, especially regarding a project of this scale.