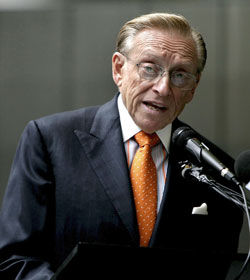 HSBC employees should soon, from their aerie atop 7 World Trade Center, be able to peer down at the morass of construction at the city-and-state controlled ground zero below.
The massive bank is poised to become landlord Larry Silverstein's newest tenant at 7 World Trade. Now that HSBC has a lease pending on the 52-story tower's top seven floors—comprising 280,000 square feet of the tower's 1.7 million—7 World Trade is nearly full.
A knowledgeable source told us that a lease is indeed "out," as commercial real estate's insufferable jargon would have it, meaning that a lease exists, HSBC has a copy and its execs are eyeing the dotted line. The source would not reveal the rent per square foot, but suggested that the top few floors would command higher prices, perhaps in the mid $90s a square foot, and the lower floors would go for somewhere in the mid $70s or $80s. Of course, those face values don't take into account any concessions that Silverstein Properties might offer, like free months of rent and build-out allowances.
Mr. Silverstein opened 7 World Trade to much fanfare in early 2006. He said at the time to whoever would listen that he, as a private developer, had rebuilt faster than the government-involved World Trade Center site across Greenwich Street from his new tower. Now, nearly three years on, Mr. Silverstein can continue to gloat, if he's so inclined, at having a prime financial tenant gobble the last big space at 7 World Trade while ground zero's various stakeholders (including Mr. Silverstein) continue to triangulate.
HSBC's New York headquarters are now housed in the 500,000-square-foot scalloped, glass tower that wraps around the Knox Building at 452 Fifth Avenue, between 39th and 40th streets.
Linda Recupero, a spokeswoman for "the world's local bank," would only give us one of those no-comment comments: "We regularly review our space requirements, as we are doing currently, but have no further comment to make at this time."
Mr. Silverstein's folks also wouldn't comment.
drubinstein@observer.com