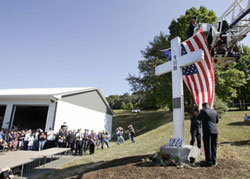 From the Associated Press:
As hundreds of firefighters bowed their heads in prayer, a cross made out of steel from the World Trade Center was dedicated Sunday near where United Airlines Flight 93 crashed into the ground on Sept. 11.
The 2-ton, 14-foot high cross sits on a concrete base shaped like the Pentagon at the Shanksville Volunteer Fire Co., just a few miles from where the plane crashed into a field. The cross made a 311-mile journey from Brooklyn on Saturday, accompanied by hundreds of motorcyclists, many of them current or retired New York firefighters.