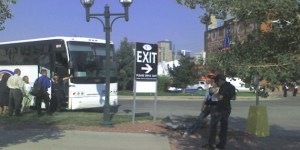 The bus line that is shipping reporters from the media tents outside the Pepsi Center to Invesco Field is getting awfully long, but it's moving fast. David Carr, who was right behind Lynn Sweet, and directly ahead of Newsweek's Andrew Romano, was on line for only about five minutes before he got onto the bus. Mr. Carr was smoking a Camel and thrilled that his new book, The Night of the Gun, would land at #11 on The New York Times' nonfiction best-seller list this Sunday. But, he added, it was only a matter of time before he was going to get kicked from the list once Labor Day hit and an avalanche of campaign books flood the market.
"I fear for the future because I'm at the convention and I notice people are talking about other nonfiction matters beyond my own book!" he said.
There is still some general confusion as to what is going on inside Invesco Field for reporters. Early reports back is that it's every man for himself–find your own seat, and hopefully you've got an air card so you can connect to the Internet.
Mr. Carr was discussing his own lot at the paper at the convention–he compared his stock in Denver to the architecture critic–when Jill Abramson, the Times' managing editor, walked by.
"Jill! Are you going?"
"Not now, I need to go back first, I'll be coming later."
Moments later, Mr. Carr followed Lynn Sweet onto the bus.