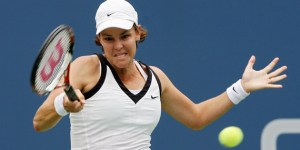 As the first day session of the 2008 U.S. Open draws to a close, here's a very short summary of what happened:
— Rafael Nadal defeated a feisty Bjorn Phau in straight sets (but two tiebreakers) and experienced the downside of being the favorite: a stadium full of New Yorkers standing up and cheering for the underdog, who will always be the other guy.
— After spending much of 2008 fighting a knee injury, Lindsay Davenport easily beat Aleksandra Wozniak in straight sets.
— Top 10 Men: David Ferrer (seeded fourth), Andy Murray (seeded sixth), and David Nalbandian (seeded seventh) all won in straight sets.
— Two top-ranked Russian women, Elena Dementieva (5) and Svetlana Kuznetsova (3), moved on in straight sets.
— Something of an upset as 17-year-old Kei Nishikori moves past 29th-seed Juan Monaco in four well-fought sets. Nishikori had a painful leg cramp late in the match, but played through it.