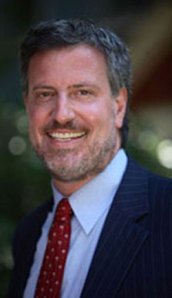 City Councilman Bill de Blasio, Democrat of brownstone Brooklyn, hopes to be a post-racial borough president.
In a place ruled by identity politics and the Democratic Party, an Italian-American from Cambridge, Mass., might seem to be an unlikely candidate for the honor. But de Blasio's multicultural, social-liberal credentials are impeccable. He's a former pro-Sandinista academic with strong ties to organized labor who made his political bones in New York working for its first black mayor. His wife, Chirlane McCray, is an African-American marketing executive who is of Caribbean descent. His children, 10 and 13, are named Dante and Chiara. (His own birth name, now legally changed, was Warren Wilhelm.) He wears a beard.
What threatens his candidacy, ironically, is the profound possibility that the campaign will be a racial minefield. The only other candidate who has officially announced he will run is City Councilman Charles Barron, a former Black Panther from East New York who considers Thomas Jefferson a "pedophile" and still boasts about having hosted a reception for Zimbabwean strongman Robert Mugabe at City Hall. Other possible candidates include Councilman Domenic Recchia and Deputy Borough President Yvonne Graham.
Mr. de Blasio, 47, insists that race will not be a big issue in the campaign. "I don't accept the notion that people are going to vote first and foremost with identity politics," he said.
He was facing away from the door in a European-style cafe on the ground floor of an old hotel on Chambers Street with his long hands—he's nearly six and a half feet tall—wrapped around a panini.
Asked how he might manage ethnic politics in the election, he says, "There's a lot of people for whom identity politics will be a secondary factor."
But it's not a question he seems particularly interested in.
"How do you, quote unquote, manage that?" he asked. "By not engaging on that level—by focusing back on the issues."
That will essentially mean ignoring Mr. Barron, who, as Ken Fisher, a former councilman (and borough president candidate), put it, "is going to yank the other candidates' chains as often as he can—he can't help it."
Mr. Barron, who began a recent phone interview by accusing me of racial bias for writing a story that focused on his white opponent, has already begun with the chain-yanking.
"Bill, I think, has went along to get along more than I was hoping he would do, because I considered him, when I first came in [to the Council], as a progressive like me," he said. "But I've been very disappointed in a lot of decisions he's made."
As examples, Mr. Barron cited Mr. de Blasio's initial support of Bruce Ratner's Atlantic Yards project and his vote against renaming part of a Brooklyn street for black nationalist Sonny Carson, which Mr. Barron says was about the community's right to self-determination.
Mr. de Blasio said, in essence, that he has no idea what Mr. Barron is talking about. "I think I'm unusually consistent," he said, after saying that he didn't really want to comment. ("I'm really, really focused on trying to not make this a campaign of people making allegations and then responding to other people's allegations," he said.)
Mr. de Blasio says he's always worked for "political empowerment" and to elect "progressive candidates" instead of "status quo candidates."
He points to his graduate degree in Latin American international affairs; the short time he spent during his graduate years with a pro-Sandinista humanitarian organization in Nicaragua; two mayoral campaigns with David Dinkins; and four years working for Mr. Dinkins' administration (much of the time under the big-time Harlem-based operative and then-deputy mayor Bill Lynch).
He notes the fact that he volunteered for Nydia Velásquez in 1992, managed Bill Clinton's New York campaign in 1996, and chaired John Edwards' New York campaign in 2004 and Yvette Clarke's bid for Congress in 2006. He is perhaps best known, as an operative, for managing Hillary Clinton's 2000 Senate campaign.
"Obviously [Hillary's Senate bid] might have led to a whole expansion of the consultant side of me," he says discussing his decision to run for City Council in 2001, "but my heart never strayed."
Regarding his initial fascination with electoral politics, he said, "As I went
into adulthood, I just felt like issue activism was more productive and didn't come with the kind of traps inherent in the electoral path."
After the disappointments of the Dinkins administration, as he tells it, determining the agenda as an elected official became more appealing to him. "Also, I liked the generalism of it," he said.
MR. DE BLASIO recently announced the endorsements of Representatives Nydia Velsáquez and Yvette Clarke. He also has the backing of UNITE HERE and the New York Hotel Trades Council, among other unions.
He presents them as an illustration of the breadth of his support.
"Look, the original set of endorsers speaks volumes to be—to be obvious. You know, Nydia Velásquez and Yvette Clarke and labor unions that obviously overwhelmingly support people of color in the borough."