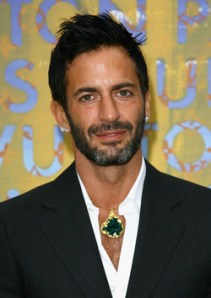 In this week's New Yorker, Ariel Levy writes about the transformation of Marc Jacobs from a "chubby Jewish guy" into what she describes as a "Superhero."
But even though Mr. Jacobs seems to be doing well these days, his famous obsessive streak (which has contributed to more than a few drug and booze binges) hasn't disappeared completely. 
"Marc gets enchanted with certain things at certain times," said Robert Duffy, the designer's business partner and best friend, told Ms. Levy.
There was Mr. Jacobs' interest in art that led him to borrow large sums of money. "He was buying art until I was like, 'Marc, stop! You've got to pay your taxes!" recalled Mr. Duffy.
Ms. Levy writes that Mr. Jacobs smokes constantly–"at the office, at the table, in his bedroom, in the car on the way to and from exercising."
When Mr. Jacobs wanted a dog, he got two bull terriers, brought them into the office every day, and got their faces tattooed on different parts of his body.
"I'm terrified of the day that he decides he wants to start gardening," said Mr. Duffy. "Because we'll have like Central Park in here or something."
"I am a true addict in that whatever makes me feel good, I want to do more of," Mr. Jacobs admitted to the magazine. "Whether it's good for me or not."
He seems to have taken that old adage–"everything in moderation, including moderation"–a little too much to heart. Could this inclination stem from the designer's desire to compensate for various insecurities, despite the confidence that he says he has gained since losing weight?
Mr. Duffy said that while Mr. Jacobs seems happy right now, "he's hypersensitive, and so insecure. About his talent he's so insecure."
And the designer's comments in the article sound like he has a taste for attention–which, if we remember our high school days accurately, is not exactly a sign of confidence.
"I like the fact that people are sort of commenting on my appearance," Mr. Jacobs admits. "I work on these things! So to have them recognized, even if sometime I don't like the way that they're recognized, I like that they are, and I feel good that I can admit that without being ashamed."
Even Anna Wintour agrees!
"Marc is a great, great designer–his talent is stronger than it's ever been before–but he also has a very acute sense of how to deal with the media," she told the magazine. "If you look at the kind of women he's drawn to, whether it's Sofia Coppola or Lindsay Lohan, he always taps into them at exactly the right time. To be honest, I don't think Marc would be in the press the way he is if he didn't want to be."