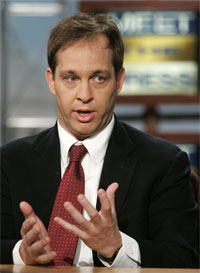 In June, The Observer talked to a number of reporters who'd spent time covering the war in Iraq. While some of their anecdotes sketched out what it's like to be in a dangerous reporting environment—the mortar attacks, the sandstorms, the numbing repetitiveness of a seemingly endless conflict—nothing in that article could prepare readers for the unflinching account of the war offered by New York Times' reporter Dexter Filkins in his book, The Forever War, which The Times Magazine excerpted this week.
Here's how Mr. Filkins' describes reporting from Baghdad for The Times: "When I was in Iraq, I might as well have been circling the earth from a space capsule, circling in farthest orbit. Like Laika in Sputnik. A dog in space. Sending signals back to base, unmoored and weightless and no longer marking time."
There's so much in the story to make a Sunday Times reader let his or her coffee go cold, but nothing so chilling as Mr. Filkins' minute-by-minute account of a marine getting shot as he and his photographer, Ashley Gilbertson, attempt to report on and photograph some killed Iraqis. After the shooting, Mr. Filkins concludes:
You go into these places, and you think they're overrated, they are not nearly as dangerous as people say. Keep your head; keep the gunfire in front of you. You get close and come out unscathed every time, your face as youthful and as untroubled as before. The life of the reporter: always someone else's pain. A woman in an Iraqi hospital cradles her son newly blinded, and a single tear rolls down her cheek. The cheek is so dry, and the tear moves so slowly that you focus on it for a while, the tear traveling across the wide desert plain. You need a corpse for the newspaper, so you take a bunch of marines to get one. Then suddenly it's there, the warm liquid on your face, the death you have always avoided, smiling back at you as if it knew all along. Your fault.