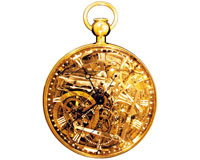 Tech journalist John Biggs, who edits the blog CrunchGear.com and has contributed to The New York Times, has signed a contract with Susan Kamil at the Dial Press to write a book called Marie Antoinette's Watch.
The book will tell the story of an impossibly elaborate wristwatch that one of Marie Antoinette's lovers commissioned around the time of the French Revolution from the master watchmaker Abraham Louis Breguet. The watch—the "iPhone of its day," according to Mr. Biggs' literary agent, Larry Weissman, because of its unprecedented range of features and functions—took 44 years to make, and Marie Antoinette was long dead by the time it was complete.
The book was the object of an intense two-day auction involving six houses, including Collins and The Penguin Press. According to a person with firsthand knowledge of the auction, Ms. Kamil, the publisher of Dial, prevailed with an offer just north of $300,000.
Reached by phone this afternoon, Mr. Weissman said his client's book will use the famous watch—which was stolen from an Israeli museum in 1983 and recovered in 2007—as an entry point for a broader cultural history of watches and watchmaking. Mr. Weissman compared it to Benjamin Wallace's recent bestseller The Billionaire's Vinegar and 2001's Seabiscuit by Laura Hillenbrand.
"With Seabiscuit, it's one horse, but you're learning about how the West really grew up and became the kind of mythic West that it is," he said.
Ms. Kamil, whose imprint is part of Random House's Bantam Dell Publishing Group, could not immediately be reached for comment.