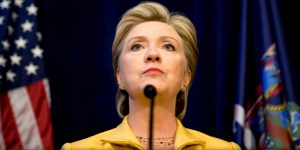 DENVER—City Councilwoman Inez Dickens of Harlem supported Hillary Clinton during the primaries, and even though she said she plans to vote for Barack Obama in the roll call this week, she thinks Clinton's candidacy was historic, especially in the context of other women who have succeeded in politics.
At the Sheraton Hotel last night, Dickens told me she is glad Clinton achieved what she did "because we've [now] had the first woman—not to run for president—but the first viable candidate that got this far. That, in of itself, is an amazing thing," she said.
"Because America has not been receptive," Dickens went on. "They did it in India, they killed her. They did it in Pakistan, they killed her. They didn't kill her in England, though, [the] United Kingdom didn't kill her.
"But in America—to get this far, for a woman—to get this far and raise the amount of money that she did, is phenomenal."