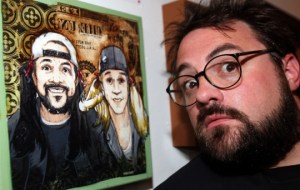 As part of the New York Post's Sunday Fall Movie Preview, there was an interview with Kevin Smith about his upcoming film, Zack and Miri Make a Porno, starring the ubiquitous Seth Rogen and the soon-to-be ubiquitous Elizabeth Banks (she's also appearing this fall in the David Wain comedy Role Models, and, of course, she's Laura Bush in Oliver Stone's W.) Smith talked about the usual things: his wardrobe ("hoodie sweat shirts, basketball jerseys"), his hobbies (poker, comic books) and his family. It was all well and good–fluffy, and just about what you'd expect.
But one comment stood out as so completely obtuse and ridiculous, that it caused us to stop eating our morning breakfast mid-chew. On the "Judd Apatow comedy revolution," Smith said the following:
I'm glad there's a Judd Apatow, because for years, we were making very dirty, but very sweet movies that found a glass ceiling of 30-million bucks tops. For years, people said it wasn't viable to combine a rom-com and a raunchy comedy. And then "The 40-Year-Old Virgin" and "Superbad" and now "Pineapple Express" proved that the genre film that we've been working in since 1994 is financially viable. That's a cool thing for me.
Let's put aside for a second that Kevin Smith has never made one movie as good as 40-Year-Old Virgin, Knocked Up or even the Apatow-produced Forgetting Sarah Marshall. And let's ignore that successful R-rated romantic comedies existed long before 2005's 40-Year-Old Virgin struck box office gold (There's Something About Mary, anyone?) What really upset us was this idea that Smith wants to purport-that he's the Howard Stern of R-rated rom-com's. He "invented" them.
When you think of romantic comedies with a little raunch, is Smith who you think of? With the exception of Chasing Amy, none of his R-rated movies have had anything near the pathos or sweetness of what Judd Apatow has put his name on in the last three years. Smith's movies were always shock fests: snowball jokes, donkey shows and giant crap monsters. What they weren't werelittle love notes to Woody Allen, Albert Brooks and the Farrrelly Brothers, like so many of the Apatow flicks seem to be.
Hey Mr. Smith: if you want to rip-off Judd Apatow on his road to box office mediocrity, be our guest. Just don't try to play it off like you've been doing this routine for ages.