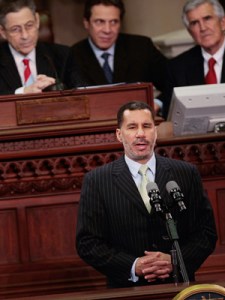 DENVER—David Paterson, Speaker Sheldon Silver and other members of the New York delegation are right now in a closed-door "chairman's" luncheon at the Sheraton Hotel–basically to thank the sponsors providing the free breakfasts all week, according to someone guarding the entrance.
When I stood outside trying to listen to State Democratic Party Chairwoman June O'Neill give her opening remarks, they closed the door on me.
Sigh.
One person who tried to get in, thinking this was another free meal, was told, "We don't do lunches. Lunches, you're on your own."