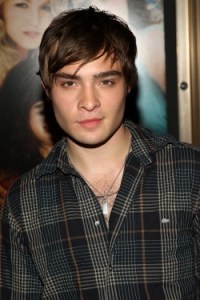 On Thursday, Aug. 21, Gossip Girl actor Ed Westwick arrived at the Soho Grand Hotel to do the unthinkable. Something that his character, Chuck Bass, would never stoop to, even if an armful of slinky Japanese girls were promised to him upon arrival: He was there to push the new aluminum Coca-Cola bottles.
Mr. Westwick arrived in slimming black slacks, a blue button-up, and suede loafers (his footwear of choice this summer), and immediately went into character for a Coke commercial. He posed with the red aluminum bottle in his left hand. Then in his right. He looked to the side very seriously and tipped his head back, taking a swig of the carbonated beverage. He even made himself chuckle a little–ha, chuckle!–at his earnest performance.
Watching all of this–excited to see Chuck in person, but sad to see him sorta selling out–the Daily Transom couldn't help but notice the calculated way in which Mr. Westwick prepared for each photographer's flash. There is a technique to being Chuck Bass, it turns out–at least in photos–that involves a very skilled contortion of the face.
Mary-Kate and Ashley Olsen may use the "Prune" technique for red carpet photos, but Mr. Westwick has mastered the sleepy-eyed, flared nostril look. The minute he steps in front of photographers, Mr. Westwick skillfully relaxes his eyelids as if he just smoked a doobie (we're old, sorry), tilts his head sort of down and to the side, and proceeds to flex his nostrils as if mid-yawn and, voilà! The British actor who actually happens to have a charming smile and personable wide eyes to go along with his proper British accent turns into the conniving and lecherous Chuck Bass.
After this elaborate performance, Mr. Westwick's publicist made him available for a few questions to the dozen or so female reporters who giggled their way through dead-end questions. What's your favorite hot spot? "Home." How's your love life? "Quiet." Do you like European grils or American girls better? "All girls are great, I'm a man of the world."
The Daily Transom wondered if Mr. Westwick was nearly as evil as his character. Mr. Westwick had to think about that one for a few seconds and finally responded, "I'm worse."
That Mother-Chucker!